Graduation 2008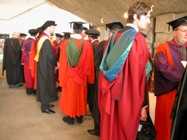 Graduation
Thursday 10 July, 2008
Aberystwyth University to honour eight new Fellows

Eight new Fellows will be honoured by Aberystwyth University during this year's graduation ceremonies which take place from 15th to 18th July 2008.
The title of Fellow is awarded to honour persons who are distinguished former students, or have a close association with Aberystwyth University or with the life of Wales.
The 2008 Fellows and order of presentations are as follows:
Tuesday 15th July at 11.00 a.m.
Mr Matthew Rhys. Internationally renowned Welsh actor.
Ms Janet Lewis-Jones. Vice-President British Board of Film Classification
Tuesday 15th July at 3.00 p.m.
Y.A.M. Tunku Naquiyuddin Ibin Tuanku Ja'Far. Former student, diplomat, businessman, and member of the Malaysian Royal Family.
Wednesday 16th July at 3.00 p.m.
Mr Huw Wynne-Griffith. Former student and former Vice-President of the University; partner in Barnett–Waddingham, statisticians and consultants.
Thursday 17th July at 11.00 a.m.
Sir John Shortridge. Wales's former chief civil servant; played a key role in establishing the National Assembly.
Lord David Rowe-Beddoe. Chairman of the Wales Millennium Centre. Former chairman of the WDA and of the Development Board for Rural Wales.
Thursday 17th July at 3.00 p.m.
Dr Alan Axford. Clinical Director of Medicine at Bronglais General Hospital and Cancer specialist.
Friday 18th July at 3.00 p.m.
Ms Sioned Wiliam. Former student; Commissioner for comedy for ITV Network Central.
Aberystwyth University graduation ceremonies take place in the Great Hall at the University's Aberystwyth Arts Centre.
Order of CeremoniesTuesday 15 July 2008

Ceremony 1 @ 11am
English; History and Welsh History
Ceremony 2 @ 3pm 
Theatre, Film and Television Studies
Wednesday 16 July 2008

Ceremony 3 @ 11am
International Politics; European Languages; Welsh
Ceremony 4 @ 3pm
Law and Criminology
Thursday 17 July 2008

Ceremony 5 @ 11 am
School of Management and Business; School of Art; Education
Ceremony 6 @ 3pm
Institute of Biological Sciences; Sport and Exercise Science; Information Studies
Friday 18 July 2008

Ceremony 7 @ 11 am
Institute of Geography and Earth Sciences; Institute of Mathematics and Physical Sciences
Ceremony 8 @ 3pm
Computer Science; Institute of Rural Sciences