Graduation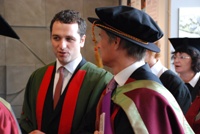 Matthew Rhys
This year saw one of the largest ever cohorts of students to graduate from Aberystwyth University. Over the four days and eight ceremonies the University also honoured eight new Fellows.
On Tuesday morning the Cardiff born actor Matthew Rhys who has close family links with Pennal near Machynlleth, and is best-known for his role as Kevin Walker, the gay lawyer brother on the American ABC family drama Brothers & Sisters, and, more recently, for his portrayal of Dylan Thomas in the The Edge of Love, was presented by the University's Registrar and Secretary, Dr Catrin Hughes.
At the same ceremony, Professor John Williams, presented Ms Janet Lewis Jones, Vice President of the British Board of Film Classification, and trustee of the Baring Foundation and Chair of the Membership Selection Panel of Glas Cymru (Welsh Water), and the BBC, for a fellowship.
On Tuesday afternoon Y.A.M Tunku Naquiyuddin Ibni Tuanku Ja'afar was presented by Professor Aled Jones. Afectionately known as 'Bill' during his student days here at Aberystwyth when he read International Politics and Economics, Y.A.M Tunku Naquiyuddin Ibni Tuanku Ja'afar is the eldest son of Their Royal Highnesses, The Yang di Pertuan Besar of Negeri Sembilan and the Tunku Ampuan. A diplomat and successful business man, he is also Pro Chancellor of Malaysia's second largest university, Universiti Kebangsaan Malaysia (UKM).
Former University Vice-President, Mr Huw Wynne-Griffith, was presented for an honorary fellowship on Wednesday afternoon by former University President, Lord Elystan Morgan. Mr Wynne-Griffith gained a degree in Pure Mathematics followed by and MSc in Statisitcs in 1967 at Aberystwyth before going on to establish himself as a leading figure in world of actuaries.
At Thursday morning's ceremony Sir Jon Shortridge and Lord David Rowe-Beddoe were honoured as Fellows of the University.
Sir Jon, the first permanent secretary to the National Assembly for Wales, was presented by Professor Noel Lloyd. A graduate of Oxford University, he was private secretary to two successive Secretaries of State for Wales; Nicholas Edwards and Peter Walker, and in 1997 was appointed Senior Director for Economic Affairs, with responsibility for the establishment of the National Assembly for Wales. At the time of his retirement in April 2008, he was the longest serving Permanent Secretary in the UK. Sir Jon was knighted in 2002.
Lord David Rowe-Beddoe was presented by Pro-Vice Chancellor, Professor Lyn Pykett. Originally from Cardiff, Lord Rowe-Beddoe is an international businessman with a considerable track record of public service and work for the performing arts. A former Chairman of the Welsh Development Agency and of the Development Board for Rural Wales, he is now Chairman of the Wales Millennium Centre, President of the Royal Welsh College of Music and Drama and Chairman of the Representative Body of the Church in Wales. He was knighted in 2000 and elevated to the peerage in 2006.
At Thursday afternoon's ceremony Dr Alan Axford was presented by Professor David Lavalle, Head of the Department of Sport and Exercise Sciences. Dr Axford trained at University College Hospital, London and was appointed Consultant Physician at Bronglais General Hospital, Aberystwyth, in 1976. Before working at Aberystwyth, he worked at the Medical Research Council Pneumoconiosis Unit at Llandough Hospital.
At Bronglais Hospital he has been head of the Departments of Respiratory Medicine and Oncology and was appointed Clinical Director of Medicine in 1995. He became the Trust's Medical Director in 1997. Dr Axford is the Trust's Lead Clinician for Cancer Services and contributes to Medical Research Council Cancer trials.
Dr Axford played a key role in developing links between the University and the local NHS, which resulted in many grants to Cancer charities, and development of a line of research into respiratory conditions. Dr Axford is a member of the South West Wales Cancer Network and is Chairman of the Lung Cancer Advisory Group. He is also a member of the All Wales Lung Cancer Advisory Group.

Former student and a leading commissioner of TV sitcoms, Sioned William, was presented at the week's final ceremony on Friday 18 July. During an illustrious career she has worked on many popular TV and Radio programmes including Weekending, Second Thoughts, Knowing Me Knowing You with Steve Coogan, The Law Game, Peter Dixon's Nightcap, and Dear Jenny Dear Julie with Paul Merton and Nicholas Parsons. As well as appearing on S4C she has worked as producer on Tonight with Jonathon Ross, Game On (BBC2), Unfinished Business (BBC1), The Wilsons (Channel 4), and Big Train (BBC 2). She was nominated for an English BAFTA three times as a producer and she won the British Comedy Award and the Bronze Rose award in Montreux for Big Train in 1999, followed by a BAFTA for Cold Feet.