Food award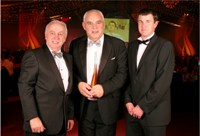 Huw McConochie (right) and Kevan Downing (centre) with Rees Roberts of Hybu Cig Cymru, the award sponsors.
Staff and students at Aberystwyth University are enjoying some of the finest food in Wales according to the
2008/9True Taste Wales Food & Drink Awards
.
The University was awarded first prize for its Roast Saddle of Lamb which is served at the TaMed Da restaurant in Penbryn, at an awards ceremony attended by over 600 people in Cardiff last night (6 November).
The award recognises the efforts of Kevan Downing, Head of Hospitality at AU, and Huw McConochie, Farms Manager at AU, who have been working together over the past three years to introduce a healthy eating menu at the University's restaurants comprising of meat and vegetables grown on the University's own farms.
Their vision for quality local produce means that up to 90% of the University's food is now sourced from its own farms and other local suppliers such as Rachel's Organic, Birchgrove Eggs and butcher Robert Rattray. This has also lead to a significant reduction in food miles with University-produced meat clocking up just 36 miles from farm gate to plate.
Over 350 companies entered more than 900 products for the 2008/9 True Taste Wales Food & Drink Awards, with the finalists chosen by a panel of judges which included top London-based chef Bryn Williams, S4C's Dudley Newbury, and Franco Taruschio, formerly of the Walnut Tree at Abergavenny.
Speaking after being presented with the award, Kevan Downing said; "This is an extremely proud moment for the Hospitality Team at Aberystwyth University. To be named as one of the finalists in such a prestigious competition with such worthy competitors was honour enough, but to actually have won is confirmation of all the hard work that all involved have contributed. It's been a real team effort so I'd like to say thank you to all of those involved."
The National Assembly's Rural Affairs Minister Elin Jones said; "The True Taste Awards recognise the quality and diversity that the Welsh food and drink industry has to offer. They indicate clearly that the standards across Wales are extremely high and are continuing to grow.  I would like to congratulate all of the winners of this year's awards on their significant achievements and all of our sponsors and supporters for their involvement."
Kevan and Huw's work was featured on ITV's 'The Food Show' on Sunday 19 October – the programme can be viewed online at
http://www.itvlocal.com/wales/programmes/?player=WAL_Prog_15&void=248145
.
A full report on the True Taste Wales Food & Drink Awards which was hosted by ITV Wales presented Hywel James will be broadcast on ITV Wales on Wednesday 12 November 2008. Further details are available online at
http://www.itvlocal.com/wales/
.