EU-India Free Trade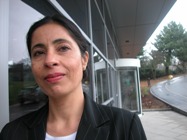 Dr Sangeeta Khorana
Dr. Sangeeta Khorana from the School of Management and Business (SMB) at Aberystwyth University has been invited to give evidence to a Mini hearing on the EU-India Free Trade Agreement negotiations.
The hearing is being conducted by the International Trade Committee of the European Parliament at Brussels. Invitees include representatives from the negotiating countries, business federations and distinguished international trade experts.
Following her initial contribution on 5 November, Dr Khorana was invited back to on the 11th of November to give a talk on "Investment Opportunities and existing non-tariff barriers in the EU-India Free Trade Agreement".
Dr. Khorana in the SMB at Aberystwyth University has been researching the implications of an EU-India Free Trade Agreement and investment framework which is expected to be implemented in 2010-11. This study analyses the perception of businesses and identifies the existing barriers to trade faced by Indian exporters in leather and footwear as well as textiles and clothing. These account for approximately one-third of all Indian exports to the UK.
The study shows that under the present EU-India trade arrangements, lack of harmonisation in regulations and standards across the EU market as well as excessive importers' requirements are the main challenges that Indian exporters face in exploiting the potential of the proposed FTA. Other obstacles include domestic constraints and trade facilitation problems in India that further impede trade between India and the EU.
The study puts forward a set of policy recommendations to address these existing barriers and constraints. These suggest the adoption of regulatory heterogeneity between the EU and India and increased transparency, technical assistance and capacity building measures.
The project "Convergence towards Regional Integration between the EU and India: Trade Implications for India and the UK" has been funded by a grant of £34,000 from the British High Commission, India. The SMB has been working closely with the Indian Council for Research on International Economic Relations (ICRIER) in New Delhi on this project.