Postgraduate Study Fair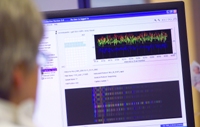 Research
The 9th Aberystwyth University Postgraduate Study Fair takes place on Wednesday 3 December at the Aberystwyth Arts Centre between 3 and 7p.m.
The event is targeted specifically to the needs of those who are interested in studying for a Masters degree, a PG Diploma or Certificate or even a PhD and is an ideal opportunity for Aberystwyth students to find out more about the University's postgraduate provision.
It will also be an excellent opportunity to get advice on financial matters, scholarship opportunities, Career Development Loans, and the admissions procedure.
A programme of specific talks, focusing on academic programmes and on funding and scholarship issues, will be run during the Fair and there will also be an opportunity to talk with both academic and administrative members of staff about the experience of being a postgraduate student at Aberystwyth.
Pre-register before 12.00p.m. Tuesday (02-12-08) by e-mailing
pg-admissions@aber.ac.uk
and you could be in with a chance of winning a £20 WH Smiths voucher.
When pre-registering, prospective postgraduate students are asked to highlight which department(s) you are interested in and in what type of study - PhD, MPhil, Taught Masters, PG Diploma, PG Certificate.
Further details about the Fair are available online at
http://www.aber.ac.uk/pga/
.