Creating the Wales of tomorrow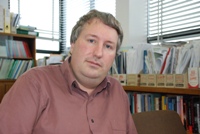 Dr Michael Woods, Director of the Institute of Geography and Earth Science
Researchers at Aberystwyth University are set to play a leading role in a new £9M institute which will help government, policy makers, and businesses better tackle major social problems in Wales.
The Wales Institute of Social and Economic Research, Data and Methods (WISERD), brings together leading social scientists from across Wales and builds on existing social science expertise at Aberystwyth University and the Universities of Cardiff, Bangor, Swansea, and Glamorgan.
Its overall objective is to develop a more detailed picture of the people of Wales through the collection, analysis and dissemination of data in areas from economic activity and growth to education, community participation, health and social care.
Professor Martin Jones and Dr Michael Woods at the Institute of Geography and Earth Sciences will lead Aberystwyth University's contribution which will focus on studying localities in Mid Wales, examining the local impacts of social and economic change and the factors that make these different to experiences in other parts of Wales.
Professor Noel Lloyd, Vice-Chancellor at Aberystwyth has welcomed the development:
"This is a significant investment in the future of social science research in Wales. It will enable Wales to develop as a world leader in social science by connecting the centres of excellence that exist in individual departments and encouraging cooperation and collaboration across disciplines and between universities."
"The Institute also has the potential to make a major contribution to policy development and I am pleased that the regional diversity of Wales is represented in the involvement of researchers from Aberystwyth alongside those based in the other participating universities."
Enabling social scientists across Wales to take a more joined-up approach to gathering and analysing new, existing and vital social science data, the Institute will seek to engage the people of Wales in discussions about the places in which they live and how they can be changed for the better, which together will help inform future policy decisions.
It will create a critical mass of expertise in social sciences in Wales and provide a solid research base to support policy development by the Welsh Assembly Government. It is also anticipated that it will enable Wales to better compete for future research funding.
Professor Teresa Rees, Pro Vice-Chancellor, Research at Cardiff University said: "This heralds a new development for the social sciences in Wales. Not only will it enhance the research competitiveness of the Welsh sector on a UK and International basis it will also help gather the kinds of research data relating to Wales which will have practical applications for the benefit of every community in Wales.
"For the first time, Wales will be able to boast a centre of social science research excellence to support the Government in tackling economic and social issues in Wales through the collection of data using the most advanced research methodologies and internationally renowned researchers."
Linked to the Economic and Social Research Council National Centre of Research Methods, the Institute will be coordinated from a Hub at Cardiff University and be responsible for social science research capacity building in Wales, developing links with other UK initiatives, and promoting collaboration across disciplines and institutions.
It will carry out work around four inter-related programmes of activity which will involve examining existing data sets and identifying areas of shortage in social data, data collection across localities in Wales using innovative research methods, policy analysis and examination, and building Wales-wide research skills through training, networking and academic appointments. The Institute will also look to increase interaction with policy makers and the private sector through consultancy.
The Wales Institute of Social and Economic Research, Data and Methods is currently recruiting 20 researchers to join an established team of internationally recognised researchers involved in the new venture.
The project is jointly funded for five years by the Economic and Social Research Council and Higher Education funding Council for Wales, with £492,000 awarded to Aberystwyth University.