Lifelong learning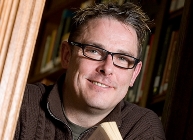 Mark Atkinson
Thursday 30 April 2009
Learning may have 'saved Mark's life'


Studying English at university had always been a lifelong dream for Mark Atkinson, but he had never felt 'good enough' to achieve his goal.
Now Mark, from Aberystwyth, has been nominated for an Inspire! Adult Learner of the Year award.
The awards are organised by NIACE Dysgu Cymru, advocates of adult learning in Wales, and recognise learners whose achievements have been inspirational or life-changing.
The awards will be presented by TV's Sara Edwards and former track and rugby star Nigel Walker in a glittering ceremony at Bangor University on May 7.
Mark's life was blighted by drugs and alcohol, but while receiving treatment for his addictions, he decided to reverse the 'downward spiral' and search for a way to make his life more rewarding and fulfilling. His search led him to a conversation about literature with a visiting representative of TRAC, an agency which assists care-leavers.
It proved to be a conversation that would change Mark's life forever.
Mark was offered a place at Aberystwyth University, but as he was still undergoing treatment, he decided to defer the course until the following year.
After a discussion with the university, he decided to ease himself back into education by participating in the Aberystwyth Summer University Programme.
Mark's nominator Dr Sue Pester was impressed by his progress, saying: "After so many years away from formal education, Mark shone with enthusiasm and ability. He truly loves learning and was not only able to complete the programme with excellent marks, but also able to assist some of the younger students. Following the programme, we were able to recommend Mark take up his well-deserved place at University where he has continued to achieve first class marks and to really indulge his passion for reading and learning. I think it is no overstatement to say that learning has saved Mark's life."
Richard Spear, Director of NIACE Dysgu Cymru said: "Mark and the other Inspire Award nominees are inspirational people who have achieved a great deal, some overcoming serious obstacles to pursue their learning. They are also representatives of the thousands of people achieving success through learning right across Wales."
The Awards are held as a curtain-raiser to Adult Learners' Week, the UK's largest festival and celebration of adult learning, co-ordinated by NIACE Dysgu Cymru, and core-funded by the Welsh Assembly Government and the European Social Fund.
The week runs from May 9 to 16 and features regionally- organised activities and themed days. To discover what's going on in your area, please call Learning and Careers Advice free on 0800 100 900 or visit
www.careerswales.com