Appointment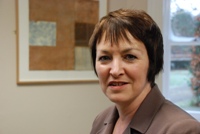 Susan Chambers, Director of Human Resources
Friday 30 January 2009
New Director of Human Resources appointed

Ms Susan Chambers has been appointed Director of Human Resources at Aberystwyth University (AU).
A graduate of Keele University where she studied Law and Politics, Sue also has a Masters degree in Leadership and Management Practice from Lancaster University. Sue joins AU from the City of Wolverhampton College where she was Vice Principal (Staff and Customers) with responsibilities which included human resources, equal opportunities, staff development, customer services and marketing.
As well as Human Resources Sue is responsible for Equal Opportunities and has a team of 20 staff who are based at Plas Gogerddan and a satellite office in the Cledwyn building. Sue also has responsibility for the Centre for the Development of Staff and Academic Practice (CDSAP) team also based at the Cledwyn Building on the Penglais campus.
"I am delighted to lead the HR team at the University at a time when there are so many exciting issues around the corner. Once agreement is reached on the National Framework Agreement, which modernises pay structures in the University, the implementation phase will commence," she said.
"The development and introduction of the Single Equality Scheme is just one of a number of important Equality and Diversity issues that are being developed and there are exciting ideas in respect of staff development which will supplement an already extensive University continuous professional programme."
 
Sue's appointment makes her the second member of her family to become associated with AU. Her son, Alexander graduated from the School of Management and Business in 2006.

When not working, Sue can be found up at Frongoch with her horse Alfie or out walking with her partner Mike and dog Megan. She enjoys languages, speaks a little Italian and is looking forward to learning Welsh.