Top for Student Experience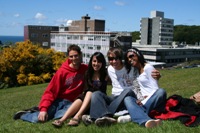 Students at Aberystwyth University
Aberystwyth University offers the best all-round student experience in Wales according to the
Times Higher Education's
Student Experience Survey which is published today, Thursday 15 January.
Aberystwyth University is also ranked 8th in the UK out of the total of 101 universities featured.
The survey saw student market research specialists Opinionpanel ask 1,000 undergraduates to answer open questions about ways in which their institution had contributed positively and negatively to their time as a student.
The results were coded and used to form a list of 21 factors, ranging from how helpful the staff are to fair workload, accommodation, good industry connections and tuition in small groups. Each attribute was weighted, in recognition of its importance to students, by correlating it against how strongly they would recommend their university to a friend.
More than 12,000 full-time undergraduates were then asked to rate their university on each of these aspects.
Professor Aled Jones, Pro-Vice Chancellor for Learning and Teaching, Welsh Language Teaching and Learning Support has welcomed this announcement.
"With the publication of the
Times Higher Education's
annual Student Experience Survey today our students have once again acknowledged the distinction and commitment of Aberystwyth University's staff, the high quality of our academic courses, the excellent range of facilities, and the safe, beautiful and wonderfully friendly community spirit that makes studying at Aberystwyth such a memorable and rewarding experience for students from all over the world."
"That Aberystwyth achieves the second highest score in the UK in the category "I would recommend my university to a friend" speaks volumes and is further evidence of why the University regularly features amongst the top ten Universities in the UK for student satisfaction, something which is a matter of the greatest pride for everyone here."
"Our aim is to continue to improve the student experience here in every respect. Our students, and those who'll join them here in the future, know that they really are enjoying one of the best student environments the UK has to offer," he added.