New Director of Information Services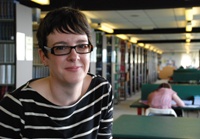 Rebecca Davies
Ms Rebecca Davies, currently Head of the Welsh Assembly Government Library & Public Enquiry Service, has been appointed Director of Information Services at Aberystwyth University.
A graduate of Aberystwyth University where she studied Librarianship and Education, Rebecca also completed a Postgraduate Certificate in Education at Aberystwyth before taking up her first professional post as Nursing Librarian at Trinity College, Carmarthen.
In 1996 she was appointed Health Science Librarian at Swansea University and in 2002 joined the Welsh Assembly Government's Knowledge Management Division as Head of the Assembly Library Service.
An Executive Committee member for the Welsh branch of the Chartered Institute of Library and Information Professionals, Rebecca is also Treasurer/Secretary of the Government Libraries Section of the International Federation of Library Associations and a member of the editorial board of the
Journal of Library and Information Studies
and of the Libraries for Life Online Services Board.
Speaking of her appointment, Rebecca said;
"Aberystwyth University has changed beyond recognition since my days there as a student, and it is a privilege to be appointed to work for an organisation that is ambitious and growing, both in terms of research and student numbers."
"I look forward to applying the experience I have gained over the past 7 years at the Welsh Assembly Government to developing further the information services that are provided for the benefit of staff, students and the wider community at Aberystwyth. Never have I been more reluctant to leave one job, and yet more exited about taking on the challenges of a new one."
Rebecca will start in her new post on 18 May and takes over from Dr Michael Hopkins who is retiring after 14 years as Director of Information Services at Aberystwyth.
Information Services provides modern library, computing and media services to the staff and students of Aberystwyth University and has approximately 150 members of staff. The service runs 5 libraries, the Hugh Owen Library and the Physical Sciences Library on the Penglais campus, the Thomas Parry Library at Llanbadarn, the Stapledon Library at Plas Gogerddan and the Old College Library. In addition it manages a network of more than 20 rooms providing students with easy access to more than 650 computer workstations and other related equipment.