Environmental benefits of low input farming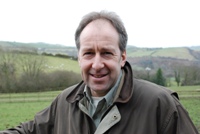 Dr Peter Dennis
Wednesday 4 March, 2009
Environmental benefits of low input farming
The Institute of Biological, Environmental and Rural Sciences (IBERS) at Aberystwyth University has been awarded €226,000 as part of a €3m European project which starts this week to measure the environmental benefits that derive from farms in Less Favoured Areas.
The traditional image of the countryside is of rolling hills, blossoming hedgerows, soaring birds and idly grazing sheep and cattle. Over recent years however, this beautiful idyll has largely disappeared, with increasing emphasis being put on productivity and intensive lowland farming, which has led to hedgerow removal and greater use of chemicals. This in turn has inevitably diminished the biodiversity of such intensively farmed areas.
Much of Europe cannot be farmed so intensively and with more interest generally in sustainable ways of living, the Europe-wide BioBio Indicators for biodiversity in organic and low-input farming systems research project led by Dr Peter Dennis at IBERS will be looking at the value that is put on farming in what is termed Less Favoured Areas – remote upland and hill farming lands across Europe, and measuring the benefits that derive from them, which on the whole are not appreciated.
More recently, measures have been put in place to reintroduce biodiversity into farming in general but these more marginal areas have to a large extent maintained their natural condition over the years. Such farms receive funding in support of the farming industry and are always held to account in relation to value for money, focusing mainly on the productivity of the land – the kilograms of lamb or beef produced and to a lesser extent the maintenance of landscape character and wildlife, typically within the National Parks.
Dr Dennis, an expert in biodiversity and grazing systems, said: "These lands have many other values, and we as a group of scientists are suggesting a number of ways of measuring beyond agricultural production to look both at the health of the soils and ecosystems that support farming and the broader range of beneficial activities which farmers are carrying out in the countryside."
Over the next year Dr Dennis and his team will decide upon a basket of different measurements, from the amount of carbon and activity in the soil, from microbes to earthworms, through to measuring the diversity of plants, including forage grasses and crops, as well as the animals associated with various habitats, and at landscape level, the impact of farming on the cultural character of the area, with dry stone walls and hedgerows for instance providing an important attraction for tourists as well as a picturesque landscape for inhabitants.
These measures will then be applied to rural areas across Europe, from the highlands of Wales to the lowlands of Belgium and the Netherlands and to more arid Mediterranean areas.

Ultimately, the project will put forward recommendations to the European Commission in relation to assessing agricultural sustainability and the contribution made by farming to the Commission's biodiversity and conservation objectives, which include halting the decline in biodiversity.
The results will also add to information that the public is receiving about the way that their food is produced, which could provide a marketing benefit for the farmers concerned. They will be able to show that they are providing a healthy food product, but also one that is grown on land that is rich in nature, and where the richness of the countryside is not being depleted.
While we all become more aware of the need to live sustainably, this may mean that you will be able to eat your roast leg of lamb on Sunday without feeling guilty about your carbon footprint, and also it may indeed prove the veracity of the saying: 'Mountain lambs are sweeter'.
• Dr Peter Dennis is a lecturer in grazing ecology and biodiversity of grazing systems at the Institute of Biological, Environmental and Rural Sciences (IBERS). Peter, who is originally from a farming family in north Devon, joined Aberystwyth University in September 2006 from the Macaulay Institute in Aberdeen.
• The project 'BioBio Indicators for biodiversity in organic and low-input farming systems' has been funded with a €3m grant from the EU Seventh Framework Programme of Research, Training and Development. The overall project co-ordinator is Felix Herzog of Agroscope Reckenholz-Tänikon Research Station, Zurich, Switzerland.
• The Institute of Biological, Environmental and Rural Sciences (IBERS) was established in April 2008 and is one of the largest groups in Europe working on creative solutions to some of the major challenges faced by the world today in the areas of sustainable land use, climate change, renewable energy and the security of food and water supplies. www.aber.ac.uk/ibers.