Upgrade for landmark building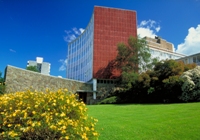 The Physical Sciences building
March 2009
Upgrade for landmark building
The iconic Physical Sciences building at Aberystwyth University, which appeared on a General Post Office 3p postage stamp in 1971 as part of a campaign to recognise attractive new architecture in British universities, is currently undergoing a £1.2m upgrade.
Now home to the Institute of Mathematics and Physics, the Physical Sciences building was built and furnished at a cost of £578,000 to house the departments of Physics and Mathematics, and the then newly established department of Statistics.
It opened its doors for the first time in October 1962 and was formally opened in May 1963 by the head of the Meteorological Office and Fellow of the Royal Society, Sir Graham Sutton, who was also a former Aberystwyth student and member of staff.
Phase 1 of the upgrade which includes a new ground floor reception area has just been completed. The remainder of the work, which will include replacing the building's electrical infrastructure and IT network and upgrading the old analogue telephone system to Voice Over Internet Protocol, is expected to be completed by July 2010.
As part of the project a new energy efficient lighting system is being installed, which should save at least 35% on electricity consumption, the equivalent of 86 kg of Carbon Dioxide each year.
Work on the project has been undertaken by two local contractors, L & R Construction, who are based at the Glan yr Afon Industrial Estate in Aberystwyth, and Newtown based electrical contractors EOM.