US Embassy visit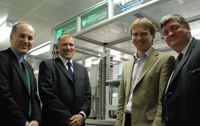 Right to Left: Mr James McDonald, Welsh Affairs Officer at the US Embassy with Professor Mike Wilkinson, Professor Chris Thomas and Mr Penri James from IBERS
Mr James McDonald, Welsh Affairs Officer at the US Embassy in London, met with senior staff at the Institute of Biological, Environmental and Rural Sciences (IBERS) at Aberystwyth University during a short visit to Aberystwyth on Monday 9 March.

Mr McDonald was briefed on the latest developments at IBERS by the Director of Enterprise and International Development, Professor Mike Wilkinson. He also met with Professor Chris Thomas, Leader of Landscape Systems and Policy, who has just returned from the American Association for the Advancement of Science annual conference at Chicago where he presented his latest research on the effects of climate change on malaria in Africa.

The visit, which also saw Mr McDonald visit the National Library of Wales, was organised by Mr Penri James, lecturer in Agriculture at IBERS.

Speaking afterwards he said: "This is my first visit to this part of Wales. I have been fascinated by what I have heard at IBERS and will be relaying this information to colleagues at the embassy to see if there are any opportunities for collaboration."

Mr McDonald described the role of Welsh Affairs Officer as having two functions, keeping Washington informed about what is happening in Wales, and acting as an interlocutor between Wales and the USA. After a year in the post, he will be handing the baton over to a colleague in April.