Football stand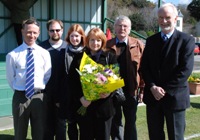 Gareth's family with representatives from AU at the opening of the stand
The new spectator stand next to the University's first team football pitch at the Vicarage Playing fields was formally opened on Sunday 29 March by Anne and Trefor Thomas in memory of their son, Gareth Llywelyn Thomas, who died suddenly in February 2007 as a result of an inherited cardiac condition.
Anne and Trefor, their daughter Sian and her partner Andy, both of whom are Aberystwyth graduates, were joined for the ceremony by University Pro Vice-Chancellor Dr John Harries, Director of AU Sports Centre and manager of the University's first 11 men's football team Mr Frank Rowe, members of staff, friends, and representatives of the University's football team before their game against local rivals Penparcau.
Gareth graduated in International Politics and Law in 2006 and was a keen footballer. The building of the stand was made possible thanks to a generous contribution by his family and funds from the Welsh Football Trust and the University's Sports Centre.
Gareth's mother, Anne is now the South Wales representative for the charity Cardiac Risk in the Young, also known as CRY (
http://www.c-r-y.org.uk/
). Her personal account of Gareth's death is featured on the CRY website
http://www.c-r-y.org.uk/thomas_my_story.htm
.