Trust-Building in Nuclear Worlds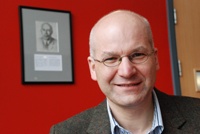 Professor Nicholas Wheeler
Thursday 14th May 2009
The Challenges of Trust-Building in Nuclear Worlds

Professor Nicholas Wheeler from the Department of International Politics at Aberystwyth University has been awarded £538,013 by the Economic and Social research Council (ESRC) and the Arts and Humanities Research Council (AHRC) for a multidisciplinary study of the concept of trust-building in relation to nuclear-armed and arming states.    

The award is one of 14 new fellowships announced today (Thursday 14 May 2009) by the ESRC and AHRC as part of the Global Uncertainties programme which focuses on how individuals, communities and nation states form their ideas and beliefs about security and insecurity.

Professor Wheeler's work will include comparative case studies of nuclear rivalries that will seek to identify the ideas and beliefs that promoted trust in some cases but not in others, with a view to applying the 'best practice' identified to cases of nuclear mistrust.  The project will involve a series of regional workshops where scholars and practitioners will come together to explore  lessons from history (e.g. missed opportunities for trust-building) with a view to developing new ideas for building trust in regions like South Asia and the Middle East.

Speaking of the award Professor Wheeler said "This award is excellent news indeed. The purpose of these theoretical and applied activities is to develop new policy agendas aimed at creating opportunities for promoting trust in relation to one of the most significant issues of global security, namely the future of nuclear weapons."
The £5.5 million investment from the Economic and Social Research Council (ESRC) and Arts and Humanities Research Council (AHRC) is anticipated to have significant impact both within the academic community and, where appropriate, on policy and practice.

As well as exploring how individuals and communities develop their ideas and beliefs about security and insecurity the fellowships will also look at why some ideas and beliefs can lead to conflict, violence or criminal activity. The Fellowships will also investigate how language, images and symbolism are used to change how risks and threats are communicated to, and perceived by, different groups

Professor Ian Diamond, Chief Executive of the ESRC commented "We are living in an uncertain world where a wide range of socio economic and demographic changes linked with the rapid rate of technological change are creating new threats to our security.  These new fellowships will generate knowledge and develop understanding of these issues allowing us to produce more effective ways to prevent and mitigate threats."

Led by the Economic and Social Research Council, the Research Council's Global Uncertainties programme supports and helps to integrate multidisciplinary research on conflict, crime, terrorism, environmental stress, and global poverty.
Professor Nicholas Wheeler is the Director of the David Davies Memorial Institute of International Studies (DDMI) in the Department of International Politics at Aberystwyth University .

He is co-author of The British Origins of Nuclear Strategy 1945-55 ( Oxford : Oxford University Press), co-editor with Tim Dunne of Human Rights in Global Politics ( Cambridge : Cambridge University Press, 2000) and author of Saving Strangers: Humanitarian Intervention in International Society ( Oxford : Oxford University Press, 2000).

He has written widely on humanitarian intervention and the responsibility to protect. His latest books are (with Ken Booth), The Security Dilemma: Fear, Cooperation, and Trust in World Politics (Basingstoke: Palgrave Macmillan, 2008) and (co-edited with Jean-Marc Coicaud), National Interest Versus Solidarity: Particular and Univeral Ethics in International Life ( Tokyo : United Nations University Press, 2008). He is co-editor (with Chris Reus-Smit) of the Cambridge Series in International Relations, a Trustee of the Welsh Centre of International Affairs, and a member of the United Nations Association of the UK 's Policy Advisory Committee.

The Department of International Politics
Established in 1919, the Department of International Politics at Aberystwyth University was the first department of its kind in the world dedicated to the study of international relations.  With over 500 undergraduate students, a postgraduate school of 120 and an academic staff list that currently stands at 38 specialist lecturers and professors teaching over 90 module courses, the department is a world class centre of excellence. In the 2008 Research Assessment Exercise 40% of its research activity was categorised as 'world leading'.

The Economic and Social Research Council (ESRC) is the UK's largest organisation for funding research on economic and social issues. It supports independent, high quality research which has an impact on business, the public sector and the third sector. The ESRC's planned total expenditure in 2009/10 is £204 million.  At any one time the ESRC supports over 4,000 researchers and postgraduate students in academic institutions and independent research institutes. More at http://www.esrcsocietytoday.ac.uk  

Arts & Humanities Research Council: Each year the AHRC provides approximately £102 million from the Government to support research and postgraduate study in the arts and humanities, from languages and law, archaeology and English literature to design and creative and performing arts. In any one year, the AHRC makes approximately 700 research awards and around 1,350 postgraduate awards. Awards are made after a rigorous peer review process, to ensure that only applications of the highest quality are funded. Arts and humanities researchers constitute over a quarter of all research-active staff in the higher education sector. The quality and range of research supported by this investment of public funds not only provides social and cultural benefits but also contributes to the economic success of the UK. www.ahrc.ac.uk .