Creative industries competition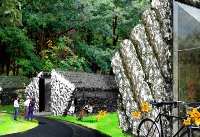 An artist impression of the creative units at Aberystwyth Arts Centre
Staff, students and graduates of Aberystwyth who have an idea for a business or community enterprise based on the creative industries are being invited to enter a competition for a 12 month residency of one of the Creative Units at the Arts Centre.
Designed by Thomas Heatherwick, one of the UK's top designers, the Creative Units Project, represents an investment of £1m which has been made possible by support from Aberystwyth University, the Arts Council of Wales Lottery Fund and the Welsh Assembly Government.
The competition is being held in order to stimulate the generation of new arts-based business ideas based on the research, expertise and teaching of Aberystwyth University and the work of the Arts Centre as the major regional cultural centre and a national centre for arts development.
There is a single prize of a twelve month residency (from August 2009 – July 2010) for the winner to set up their new business in one of the Arts Centre's brand new Creative Units.
The prize will be awarded to the business or community enterprise, which is judged to have the most business potential; originality and relevance to the University.
All entrants are offered advice on commercialising their ideas; business skills training and signposting to useful business support organisations.
The competition is open to Aberystwyth University students, staff and graduates with an idea for a business or community enterprise based on any of the Creative Industries including film, tv, new media, performing arts, visual arts, applied arts, literature, etc.
Competition entrants need to complete the Application Form and return it by 5pm on Friday 22nd May in one of the following ways:
·         By completing the application form electronically and e-mailing it to
awo@aber.ac.uk
·         By printing out the form, completing it and posting it to:  Tony Orme, c/o CCS, Visualisation Centre, Penglais Campus, Aberystwyth University -  SY23 3BF
·         By faxing it FAO: Tony Orme to 01970 622959
All applications will be received by the University's Commercialisation and Consultancy Services Department, working in partnership with the Arts Centre, who will treat all ideas confidentially.
All ideas will be reviewed and a shortlist of applicants will be invited to present their ideas to the panel of judges, which will comprise of representatives from CCS and the Arts Centre.
Further details are available from Tony Orme at CCS
awo@aber.ac.uk
/ 01970 622203 / 07773 471245