New Creative Landmark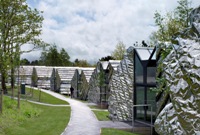 One of the creative units
Aberystwyth Arts Centre is today celebrating the launch of an extraordinary architectural commission that will provide much needed studio and workshop space for arts organisations in Wales.
The eight new Creative Units, designed and built by Heatherwick Studio - one of the UK's most creative design practices – have already established themselves as new landmarks for Aberystwyth and go to further enhance the Art Centre's reputation as one of the leading venues for contemporary arts and culture in the UK.
The design is both striking and considerate to its setting. The simple timber-frame buildings are clad with a bespoke crinkled stainless steel system that creates a shimmering futuristic appearance, reflecting the greenery of their site.  Unusually, their construction as well as their design was led by Heatherwick Studio whose specialist team worked on site with local sub-contractors to deliver the project.  The special cladding system was fabricated on site using a contraption akin to a Victorian mangle that deformed the steel into its irregular form. The studios sit within woodland, and over time will blend further into the maturing landscape around them.
All sixteen studio spaces have been let, with tenants including internationally-renowned painter Mary Lloyd Jones and Creu Cymru - the National Development Agency for Theatres and Arts Centres in Wales.
Today's opening, by Alun Ffred Jones AM, Heritage Minister in the Welsh Assembly Government, marks a new chapter in the development of the Centre as an arts community in which ideas can thrive. The new buildings will enable the Centre to increase its economic impact in Wales and beyond, and enhance its role as one of the country's leading centres for the development of creative businesses, products and activity.
The studios are the latest in a growing list of architectural commissions by Heatherwick Studio that includes the award-winning East Beach Café in Littlehampton.  Today's opening takes place one year before the opening of a pavilion by Heatherwick Studio to showcase the UK at the Shanghai 2010 Expo.
Alan Hewson, Director of Aberystwyth Arts Centre said:
"We are delighted with the studios and Heatherwick's design. The concept really has captured the imagination of arts organisations and artists in the area – we have formed a creative community here which will work closely with, and will add to the strength of, the growing creative cluster in Aberystwyth."
Alun Ffred Jones AM said:
"There is a vibrant contemporary arts scene in Wales and we need to ensure that as many as possible can enjoy it, wherever they live, whatever their background. Culture, in all its forms, is life enhancing. Where there are creative hubs such as Aberystwyth Arts Centre, there are vibrant communities where people want to live and work. It's as important as setting up business parks."
Thomas Heatherwick said:
"Aberystwyth Art Centre is an ambitious and special place.  Our project was about designing buildings that would provide functional light-filled spaces for local artists and creative businesses, but that would be special and particular to this site and the Arts Centre.
We have been acting like architectural tailors - building simple forms with an extraordinary skin.  This skin will reflect the surroundings and as the young trees and grass begin to mature, the units will feel further embedded into their environment and Aberystwyth.  
It's fantastic to hear that the buildings are already all full and being used and loved We are now looking forward to working with the centre on plans to extend the studios and build a new larger temporary building nearby, next year."
Mary Lloyd Jones, an artist in residence at Aberystwyth Arts Centre said:
"One of the reasons for applying for residency was because of the light in the studio – it's so beautiful. I am very impressed with the layout and design of these units – the space is so interesting and it's a real treat to be here. Aberystwyth Arts Centre is a wonderful centre – it's constantly busy and the work that is generated here is quite special. I am excited about future developments and prospects – especially with these new studios."
This development has been made possible with support from the Arst Council for Wales Lottery Fund, the Assembly Government and Aberystwyth University.