Entrance Scholarship Winners 2009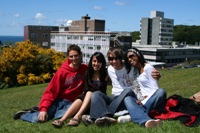 Students at Aberystwyth University
The results of Aberystwyth University's prestigious Entrance Scholarship competition are announced today, Thursday 21 May.
Aberystwyth University has the broadest range of Bursaries, Entrance Scholarships and Awards available at any British university. The awards provide a valuable structure of financial support to ensure that students of all backgrounds can enjoy the benefits of Higher Education.
The awards are not just financial. Winning an Entrance Scholarship or Merit Award, or being awarded an Excellence, Sports or Music Bursary are extremely prestigious and a valuable addition to a person's CV.
Excellence Bursaries, worth £2,000 for 3 year courses (£2,667 – 4 years, £3,334 - 5 years and £1,400 for Foundation Degrees), are available to all UK/EU students who enrol at Aberystwyth in specific subject areas. The aim of these Excellence Bursaries is to reward academic achievement prior to university entry.
Entrance Scholarships, worth up to £3,600 over 3 years - about 50 Entrance Scholarships and some 200 Merit Awards are available each year. These awards are based on performance in examinations held in early February of the year of entry to the University.
Aberystwyth Bursaries assist full-time undergraduate students from lower income families from all parts of the United Kingdom and the European Union.
Aberystwyth also offers: Residential Bursary - £500 discount for the first year in University residences; Sports Bursary - £500 per annum for the duration of your studies; Music Bursary - £1,200 over 3 years; Care Leaver Bursary – worth up to £5,400 over 3 years.
Professor Noel Lloyd, Vice-Chancellor of Aberystwyth University said:
"Aberystwyth University has a long and distinguished history of providing financial support to its students through scholarships. It is pleasing that this year again competition for entrance scholarships has been keen and I congratulate those who have been successful. I would also like to take this opportunity to wish them and everyone who entered the competition every success in the forthcoming summer examinations."
Entrance Scholarship Winners for 2009
SENIOR SCHOLARSHIP - £1,200 p.a.
Piotr Lukasz Chudzik, Poland
OPEN SCHOLARSHIPS - £1,000 p.a.
Stacey Bluett, Budehaven Community School, Bude, Cornwall
Nicola Brain, The Bournemouth and Poole College, Poole, Dorset
Samuel Trygve Booth, King Edward VI Grammar School, Chelmsford, Essex
Michael Buchanan, Halesowen College, Halesowen, West Midlands
Alexander Coulson dos Santos, Graveney School, Wandsworth, London
Georgina Ettritch, Stratford Upon Avon High School, Warwickshire
David Niklas Fischer, Germany
Bethan May Ford, Alcester Grammar School, Warwickshire
Stuart James Hawtin, South Downs College, Waterlooville, Hampshire
Lara Kenny, Sir William Perkin's School, Chertsey, Surrey
James Mobley, South Bromsgrove High School, Worcestershire
Keir Alexander Nichols, Moorlands VI Form College, Cheadle, Staffordshire
Isaac Shortman, Wymondham College, Norfolk
Eleanor Jane Silkstone, Bacup and Rawtenstall Grammar School, Rossendale, Lancashire
Mark Andrew Talbot, Winstanley College, Wigan, Lancashire
Charlotte Tomkins, Redborne Upper School, Ampthill, Bedfordshire
Maximilian John Walker, William Parker Sports College, Hastings, East Sussex
Letty Wilson, Sir John Leman High School, Beccles, Suffolk
PRICE DAVIES SCHOLARSHIPS - £1,000 p.a
Ashely Cook, Bungay High School Science College, Bungay, Suffolk
Gemma Cusack, Shrewsbury Sixth Form College, Shropshire
Polina Kalentsits, Pangbourne College, Reading, Berkshire
JOHN HUGHES SCHOLARSHIP - £1,000 p.a.
Joseph Baldwin, Lawrence Sheriff School, Rugby, Warwickshire
EVAN MORGAN SCHOLARSHIPS - £1,000 p.a.
Lea Helygain Adams, Ysgol Gymunedol Penweddig, Aberystwyth, Ceredigion
Geraint William Ashton, Lewis School, Pengam, Bargoed, Caerphilly
Sean Bibby, Ysgol Maes Garmon, Mold, Flintshire
Thomas Clark, Pencoed Comprehensive School, Pencoed, Bridgend
Adam James Davies, Ysgol Gyfun Gwynllyw, Pontypool, Torfaen
Delor Marged Davies, Ysgol Y Preseli, Preseli, Pembrokeshire
Ceri Ellen Evans, Coleg Meirion-Dwyfor, Pwllheli, Gwynedd
Gwenno Elin Griffith, Coleg Meirion-Dwyfor, Pwllheli, Gwynedd
Liam Dean Griffiths, Aberdare Boys' School, Aberdare, Rhondda Cynon Taf
Osian Gruffydd, Coleg Meirion-Dwyfor, Pwllheli, Gwynedd
Emily Victoria Hopkins, Ysgol Brynhyfryd, Ruthin, Denbighshire
Fflur Angharad Jones, Ysgol Maes Garmon, Mold, Flintshire
Samuel Iain Lawrence, Welshpool High School, Welshpool, Powys
Berwyn Murray, Llanfyllin High School, Llanfyllin, Powys
Alice Eluned Newton, Ysgol Gyfun Gymraeg Glantaf, Llandaf, Cardiff
Ffion Eluned Owen, Ysgol Dyffryn Nantlle, Caernarfon, Gwynedd
Hywel Purchase, Gorseinon College, Gorseinon, Swansea
James Andrew Warwood, Yale College, Wrexham
THE REVEREND HERBERT MORGAN SCHOLARSHIP - £1,000 p.a.
Garmon Dafydd Iago, Ysgol Maesyryrfa, Cefneithin, Llanelli, Carmarthenshire
SIR ALFRED JONES SCHOLARSHIP - £1,000 p.a.
Rhian Mair Lloyd, Ysgol Maesyryrfa, Cefneithin, Llanelli, Carmarthenshire
THOMAS DAVIES SCHOLARSHIP - £1,000 p.a.
Christine Lockey Kingsley College, Redditch, Worcestershire
PEMBROKESHIRE SCHOLARSHIP - £1,000 p.a.
James Scotney, Greenhill School, Tenby, Pembrokeshire
LOVELUCK SCHOLARSHIP - £1,000 p.a.
Ruth Elen Roberts Ysgol Uwchradd Bodedern, Ynys Môn, Gwynedd
Deatils of the 2010 Entrance Scholarship Examinations are available from the Recruitment and Marketing Office, Aberystwyth University, Student Welcome Centre, Penglais Campus, Aberystwyth University, Aberystwyth Ceredigion SY23 3FB
Tel: (01970) 622065
Fax: (01970) 621554
E-mail: marketing@aber.ac.uk
www.aber.ac.uk/info/schwe