New climate change initiative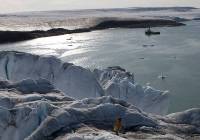 Ice
The universities of Aberystwyth, Bangor, Cardiff and Swansea today announced the launch of the Climate Change Consortium of Wales (C3W), a £4 million initiative to be financed by the Welsh Assembly Government (WAG) through the Higher Education Funding Council for Wales (HEFCW).
Together with additional support from the Countryside Council for Wales and substantial investment from the four universities C3W is set to considerable enhance the climate science profile of Wales.
The Consortium has been developed by a group of internationally respected academics in collaboration with staff in a wide range of disciplines across the four universities. These disciplines cover the impact of climate change on land, sea, atmosphere and cryosphere, as well as its social consequences.
The aims of C3W are to (i) improve our fundamental understanding of the causes, nature, timing and consequences of climate change on Planet Earth's environment and on humanity, and (ii) to reconfigure climate research in Wales as a recognisable centre of excellence on the world stage.
C3W will provide a central focus for nearly 200 academic staff across the four universities who work in the field of climate change, and encourage formal collaboration between the universities, and build upon already established networks of UK and international partners. The intention is to be able to inform the decision-making process concerning a sustainable future for Wales, and provide relevant, up-to-date information for schools, universities, businesses and the wider public, so that we can all make informed choices about our future life-styles.
C3W has targeted four 'Grand Challenges" that need to be addressed through an interdisciplinary approach: Earth system modelling; sea-level change; hazard evaluation, mitigation and adaptation; and the Welsh dimension of climate change.
A number of collaborative ventures are already underway, including an assessment of the stability of the Greenland Ice Sheet which is implicated in future rising sea levels, and in how the past sedimentary record in the North Atlantic Ocean can inform us about future climate responses to oceanic circulation change.
Professor Noel Lloyd, Vice-Chancellor of Aberystwyth University commented:
"The rationale for C3W is the recognition that climate change is a major global issue. There is a scientific consensus, notably from the UN's Intergovernmental Panel on Climate Change (IPCC, 2007) that human-induced climate warming is a reality and rapidly leading to irreversible consequences, such as more extreme weather events, changing patterns of aridity and rising sea levels.
"It is also recognised that some of the predictions concerning environmental response to climate change are taking place more rapidly than in the IPCC report, while the UK Government's Stern Report has highlighted the financial consequences of inaction. The research to be conducted by C3W scientists will be of direct benefit to the development of greater sustainability."
Dr David Grant, Cardiff University's Vice-Chancellor said: "The climate change agenda is an extremely pressing one which will affect the basic fundamentals of life for many people around the world. Cardiff University is already involved with some of Wales' leading allied research areas of low-carbon energy and energy-use efficiency. Being a member of C3W will play a major role in the University's further contribution to a more sustainable future for us all, and a more collaborative, multi-disciplinary research programme across Wales to tackle climate change and its consequences.
Professor Merfyn Jones, Vice Chancellor of Bangor University said: "In recent years Bangor has developed a particularly strong profile in climate change science. The C3W initiative builds on the recognized work of research groups working within the College of Natural Sciences and also in conjunction with our NERC partner, the Centre for Ecology and Hydrology at Environment Centre Wales. This is an all-Wales collaboration that will enhance climate change science across the country and in the international arena."
Professor Richard B Davies, Swansea University's Vice-Chancellor, said: "Climate change research has to address massive challenges and significant progress will require large teams and multidisciplinary approaches. The ambition of the Consortium must be no less than establishing Wales as a world-leading centre for climate change research.
"Bringing together diverse expertise from across Wales will, with the additional funding from WAG, create the necessary critical mass. Researchers will be supporting C3W from across the Swansea campus, including glaciologists, marine biologists, climate modellers, lawyers, engineers, and ageing experts. We are particularly enthusiastic about efforts to reach out to schools, the public, and the business communities across Wales."
The four universities are equal partners in this enterprise, with co-ordination being undertaken by Aberystwyth. Climate change issues are being addressed by Welsh academics not only within Wales, but across the whole planet from the Antarctic through the tropics to the Arctic, and from land to the deep oceans. Together, they have a global perspective that can be brought to bear on planning for our collective future.
The start of C3W coincides with the crucial UN Climate Change Conference in Copenhagen (7-18 December). Funding has been guaranteed for five years, but is expected that beyond this C3W will be self-sustaining.