Fairtrade University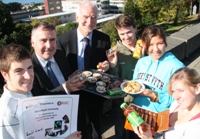 Celebrating Fairtrade University status are Jeff Smith (Involvement and Ethics officer), Mark Williams MP, Dr John Harries, Pro Vice-chancellor AU, Matt King (Sabbatical officer for Communications and Societies), Katrina Austen (Sabbatical officer for Education and Welfare) and Zoe Coombes (member of staff at the Guild shop).
Today, Monday 12 October, Aberystwyth University graduate Tom Marshall is attending a tea party at 10 Downing Street to mark the awarding of Fairtrade status to the University.
Tom, who graduated with a degree in International Politics in July 2009, was the Environment and Ethics officer at the Aberystwyth Guild of Students during 2008/9 and played a leading role in the campaign to make Aberystwyth a Fairtrade University.
Aberystwyth University is the 100th university/colleges to be awarded Fairtrade status, an honour it shares with Herriot-Watt University and Myerscough College in Lancashire. The London event, which is being hosted by Sarah Brown, also marks the 15th anniversary of the arrival of the first three Faritrade-certified products in UK shops.
Whilst Tom will be enjoying his Downing Street tea, Ceredigion MP Mark Williams will join staff and students at the Aberystwyth Guild of Students to celebrate the achievement. Between 12 and 3 p.m. today members of 'People and Planet' will offer advice on Fairtrade products along with free tasters, and the Guild shop will be displaying their range of Fairtrade products, including Fairtrade cotton clothing.
Tom said: "I'm honoured to represent Aberystwyth University at this event as it is only due to the effort and commitment of numerous staff and students that we have been given this award. It is testimony to the phenomenal success and growing influence of the Fairtrade project that this event is being held at number 10 Downing Street."
"Universities have always been a place where young people go to find out about the world and their place in it. In an increasingly globalised environment, it is important that Universities play their role in promoting responsible global citizenship. I am pleased that the efforts of Aberystwyth University have finally been recognised in this way", he added.
Dr John Harries, Pro Vice Chancellor at Aberystwyth said; "Aberystwyth University is very pleased to have been awarded Fairtrade status. Through our catering outlets and delivered catering services, we make Fairtrade products readily available to staff, students, conference organisers and delegates. Our Fairtrade provision is important in helping to raise awareness amongst our students and staff and visitors to the University of the need to ensure a better future for producers in the developing world".
Jon Antoniazzi, President of the Aberystwyth Guild of Students said;
"Here at the Guild of Students, we are delighted to celebrate the achievement of Fairtrade status for Aberystwyth University, and proud to share this celebration with the Fairtrade Foundation's anniversary. The Fairtrade movement is of vital importance for the future of ethical trading, and is something that our students are enthusiastic to both promote and support."
The Fairtrade Universities and Colleges scheme started in 2003. In order to become a Fairtrade university staff and students must make a commitment to supporting Fairtrade. This includes ensuring that Fairtrade products are available in on-site cafes, restaurants and shops wherever possible, and raising awareness of Fairtrade and the benefits it brings to producers in developing countries.
Harriet Lamb, Executive Director of the Fairtrade Foundation said;
"I am delighted to welcome Aberystwyth University to the growing number of universities and colleges which are spreading the Fairtrade message. Thousands of young people pass through the doors of universities and colleges every year and many already care passionately about Fairtrade. Fairtrade status gives them a chance to demonstrate the value of Fairtrade to other students and helps university and college staff make a real difference to people in developing countries around the world."