Software bursary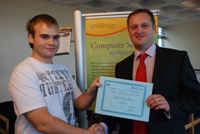 Final year student Sam Thomas receives the Portaltech Student Bursary from Paul Tough.
Thursday 1 October
Portaltech supports next generation of software engineers at Aberystwyth University
Portaltech, a leading UK e-Commerce company, is funding a new bursary for computer science students at Aberystwyth University.
Portaltech was founded in 1999 by two Aberystwyth computer science graduates, Andrew Walker and Paul Tough.
The company now boasts an impressive client list that includes The Body Shop, The Royal Mail, Long Tall Sally, Premier Farnell, Sony and Vodafone, and has offices in London, California and Mumbai.
On Thursday 1 October Paul Tough returned to his
alma mater
to present the first Portaltech Student Bursary to final year student Sam Thomas.
Sam, who comes from Pontypridd, is studying on the MEng Software Engineering. As part of his final year work he is preparing a dissertation on medical image processing.
Sam said "I am very pleased to be receiving the Portaltech Student Bursary, it was totally unexpected. My time at the Department of Computer Science has left me well-prepared to join the "reall" world and the money from this award will go a long way towards helping with the costs of studying at university."
The Portaltech Student Bursary builds on the excellent working relationship that has developed between the company and the department. For the past 4 years Portaltech have employed undergraduate students from the Department of Computer Science as part of their industrial placement programme.
The quality of the industrial experience provided by Portaltech was recognised in 2008 when the company received the highly commended award for Best Work Experience Provider: New Placement Schemes at the National Council for Work Experience Awards 2008.
Commenting on the bursary Dr Fred Long, Director of Learning and Teaching at the Department of Computer Science said;
"The Department of Computer Science is very grateful to Portaltech for their support over the years. It is particularly rewarding when Aberystwyth graduates go on to build successful careers and retain their links with the department."
"Andrew and Paul have taken this a step further. By funding the Portaltech Student Bursary they are investing in the next generation of graduates, giving them an opportunity to develop the skills that should stand them in good stead for their careers," he added.
The bursary is worth £1000 and is awarded to best student on the MEng Software Engineering course as assessed by performance in the penultimate year.
According to the 2008 Research Assessment Exercise the Department of Computer Science is the best department in its discipline in Wales and one of the best in the UK. 100% of its research was rated as 'internationally recognised' with 70% being 'world leading' or 'internationally excellent'.
The Department also has an impressive record for student satisfaction. Eighty six (86%) percent of students expressed their satisfaction with the Department according to the 2009 National Student Survey. Aberystwyth University was joint 6th in the UK with and overall satisfaction rating of 90%.