Head of Communications and Public Affairs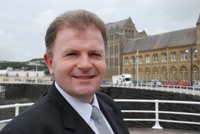 Lyn Morgan
Lyn Morgan has been appointed Head of Communications and Public Affairs for Aberystwyth University.
A former announcer and presenter on BBC Radio Wales, BBC Radio Cymru and BBC Radio 3, Lyn joins the University after 9 years running his own media consultancy.
Originally from Kidwelly in Carmarthenshire, Lyn graduated in French at Aberystwyth University in 1982. More recently he completed an MBA at the University of Bradford and a Diploma in Business French at Cardiff University.
Lyn began his broadcasting career with Swansea Sound in 1978 whilst a student in Aberystwyth, before joining the BBC in Cardiff on graduation. During an 18 year career with the BBC, he worked across radio and TV, both as a broadcaster and manager and was part of the launch team for BBC Choice Wales in 1997. At the BBC, his roles included Senior Producer in Presentation and Promotions, Chief Assistant to the Controller and Assistant Broadcast Services Manager.
In 2000, he established Lyn Morgan Media Consulting which provided consultancy and project management services to clients in the media and cultural sectors. In recent years, Lyn has moved into the area of strategic communication planning and public information. He has worked as an adviser, trainer and consultant to local authorities and media organisations, as well as being an Associate Lecturer at the Cabinet Office's Emergency Planning College.
Speaking of his appointment Lyn said:
" My whole working life has centered on communications, whether mass media or one to one and it all still fascinates me. I'm delighted to be joining Aberystwyth University at such an exciting time. We're living through a massive growth in digital media and social networking and with so many great stories to tell, I can't wait to begin!"
Married with two children aged 17 and 12, Lyn is a member of the Chartered Institute of Marketing, the Institute of Business Consulting and an associate of the Business Continuity Institute.