Improving the learning and teaching environment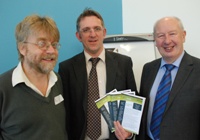 Professor Martin Jones (centre) with Brian Kelly from Web Focus (left) and Professor Paul Bacsich of Matic Media Ltd.
Wednesday 21 October 2009

Improving the learning and teaching environment for students

The Aberystwyth Gwella initiatives, which are aimed at improving the student learning experience at Aberystwyth University, were launched on Wednesday 21 October with a showcase event on good practice in technology-enhanced learning.
The initiatives form part of Gwella, a Wales-wide project designed to support the Higher Education Funding Council for Wales' policy "Enhancing Learning & Teaching through Technology: A Strategy for Higher Education in Wales".
The day-long event, which included the launch of Nexus, a new web resource for technology-enhanced learning, took place at the Visualisation Centre on the Penglais Campus.
      
Emphasising good practice in technology-enhanced learning, the event included an overview of AU's Gwella initiatives, a talk by guest speaker Brian Kelly of UK Web Focus, round-table discussion, demonstrations and posters by academic staff to share how they have used technology effectively in teaching.
AU's Gwella activities cover five priority areas – good practice, e-assessment, technology-enhanced learning, student experience, and policy/procedure.
• The good practice activities include development and travel funds for academic staff as well as events such as the Gwella launch to disseminate good practice at AU and beyond.
• The e-assessment initiatives provide support and training in online assessment using the newly-acquired Questionmark Perception tool.
• The technology-enhanced learning initiative enabled purchase of Campus Pack Web 2.0 tools for Blackboard together with new training sessions in using the tools.
• The student experience projects include a student learner experience study to provide rich qualitative data that hopefully can then be embedded into quality enhancement procedures.
• Finally, administrative staff are examining AU policy and procedure to align it more closely with the technology enhancement agenda.
The five main strands of AU's Gwella activity are brought together in Nexus, a new web resource for technology-enhanced learning. Nexus includes news about developments at AU and in the sector, case studies of technology-enhanced learning in action, good practice guides and more. It can be found at: http://aberystwythuniversity.xwiki.com/xwiki/bin/view/Main/.
Implementation of the AU Gwella initiatives is overseen by a team chaired by Professor Martin Jones, Pro-Vice Chancellor, with members across the university including staff in the Centre for Development of Staff and Academic Practice (CDSAP) and the Information Services E-learning Team.
In addition, all Gwella institutions were assigned a 'critical friend' – an external consultant to advise and support the project. The consultant for Aberystwyth University is Professor Paul Bacsich, founding Director of Matic Media Ltd and Senior Consultant at Sero Consulting Ltd.
Professor Martin Jones said: "The focus of learning and teaching at Aberystwyth University is on the quality of the student learning experience. It is from a deep understanding of how and what students learn that informs approaches to teaching, the design of the students' learning environments, and the orientation of learning and teaching support systems. Gwella is central for taking this forward, E-learning is being continually embedded into our learning and teaching strategy, and the initiatives today are very important developments".