New student health centre and crèche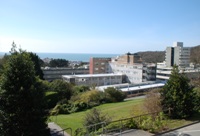 The Penglais Campus
New student health centre and crèche

A new University student health centre and crèche will form part of the primary care centre that is to be built on land across the road from Neuadd Pantycelyn.
Plans to fund the new development, which will also provide a new home for the Padarn GP Surgery, a pharmacy and possibly services provided by the Hywel Dda NHS Trust, were announced by National Assembly Health Minister Edwina Hart on 17th August.
The Student Health Centre, which is currently located in the Cledwyn Building on the Penglais Campus, will provide access to a nurse and GP services and be responsible for co-ordinating general health and wellbeing campaigns that tackle issues such as sexual health, stress management and healthy lifestyle.
The University's crèche currently provides care for children up to 4 years old at Glenview and a baby unit at Rosser Hall. It recently received a glowing report from Care and Social Services Inspectorate Wales for the quality of the staff and the learning environment it provides.
Dr John Powell, Director of Student Support said;
"With this development Aberystwyth becomes one of the few universities in the UK to have its own health centre on campus. This underlines the University's commitment to student health and wellbeing and is a significant investment for the future."
"We especially welcome the new purpose built nursery which is of great importance for working parents and to encourage those with parental responsibilities to return to full time study," he added.
However, Dr Powell emphasised that the services provided at the Student Health Centre supplement those provided by GP surgeries and that every student will continue to be required to register with their own GP, locally, for prescription and other medical services.
Construction of the new primary care centre is expected to commence in the autumn and be completed by April 2011.