Alumni Relations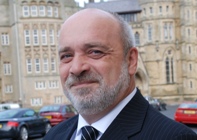 Mr Julian Smyth
Julian Smyth has been appointed Director of Development and Alumni Relations at Aberystwyth University (AU).
Julian joins AU from fundraising consultants ASK Associates where he was Principal Consultant. During a fundraising career that spans nearly 20 years Julian has worked for The LandAid Charitable Trust, The Sherborne School Foundation in Dorset, The Bradfield Foundation, Linacre College Oxford and the Royal Association for Deaf People.
A music graduate of Nottingham University, Julian went on to study composition at the University of Lancaster with the composer Edward Cowie. After completing his academic studies, Julian worked as Orchestra Manager for the Ulster Orchestra, the Bournemouth Symphony Orchestra and the London Symphony Orchestra. More recently he has returned to composition as a hobby, describing his works as "modern classical" and "abstract romanticism".
Speaking of his appointment Julian said;
"Aberystwyth University offers a wonderful university experience and the affection for it felt by former students, its alumni, is only rivalled by St Andrews within the UK."
"Aber is also a university that has been built to a large extent on philanthropy with much of this provided by ordinary people. In 1875, three years after the University was established, chapels throughout Wales declared the last Sunday in October to be "University Sunday" and devoted their collections to the College at Aberystwyth. Over 70,000 ordinary people contributed mostly small amounts and £3,100 was raised. For the first twelve years of its existence, it was only with such continued support that the fledgling university survived."
"Our aim is to build on this most honourable tradition for the benefit of future generations of Aberystwyth students," he added.
In the immediate future, the focus for Development and Alumni Relations will be to increase the level and breadth of communications with Aber alumni and to build on the already extensive network of Aberystwyth alumni associations that are to be found in all corners of the world.
In November it will launch the University's first annual fundraising campaign aimed at providing immediate and beneficial projects for current students. To coincide with this a Donor's Charter will be published which will set out the rights of donors to be kept informed of how their money is being used and make sure that all contributions are suitably recognised.
Plans are also being drawn up to encourage more alumni and friends to revive their links with the University and with former fellow students using the ever broadening spectrum of online services.
The appointment has been welcomed by Professor Noel Lloyd.
"One of the features of Aberystwyth University is the commitment of former students to the university and their interest in its continuing development. Julian's appointment is an indication of the strong commitment of the University to the further development of links with former students."
"Since its establishment, the University's alumni have played a significant role in the University's development, and it has become a successful university as a result of the contributions of the people of Wales and of some major benefactors."
"With Julian's appointment we look forward to building on the long established relationships with former students, the Old Students' Association and the wider community for the benefit of everyone associated with Aberystwyth."

The Development and Alumni Relations team

Mr Julian Smyth, Director.

Mrs Louise Perkins, Alumni Relations Manager.
Louise, who is herself an Aber alumna, joined AU a little over 12 years ago as an Alumni Officer. She is the first point of contact and organiser for all of the University's alumni relations activities. Louise is also Honorary Secretary for the Old Students Association.

Dr David Currie, Database Manager.
David joined the Development and Alumni Relations Office in May 2009. A graduate of Pembroke College Oxford, he was recently awarded his PhD by the Department of Computer Science at Aberystwyth. David is responsible for managing the alumni database.

Miss Cheryl Hughes, Prospect Researcher.
Cheryl joined Aberystwyth University in May 2009 from Bristol University. A graduate of Bristol, Cheryl is an experienced prospect researcher, a role that involves searching for connections that will benefit the University.
Alwena Moakes-Hughes, International Alumni Officer.
Alwena joined the University in May 2009 from Aberystwyth based PR agency Francis Balsom Associates. An Aber alumna, Alwena is responsible for facilitating the work of Aber alumni societies around the world. Her time is divided between Development and Alumni Relations and International Recruitment and Collaboration.