Record recruitment year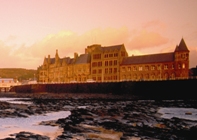 The Old College
Aberystwyth University has enjoyed a record year for student recruitment. The University is preparing to welcome 2,700 first year students when it reconvenes for the new academic year later this week – an increase of 12.5% on 2008.
Within a few hours of the announcement of the A/AS level results on 20 August every place to study at this popular university was filled. Competition for places has been intense with applications up by 16%, substantially above the UK average. This is the second consecutive year in which applications to Aberystwyth have increased substantially.
This year's performance has been exceptionally strong in all subject areas - in the Arts, Sciences and Social Sciences. Enrolment has been strong, not only in Aberystwyth's traditional strengths such as Theatre, Film and Television Studies, Geography, International Politics and Education, but also in newer academic subjects such as Sport and Exercise Science and Psychology.
The University has performed particularly well in the STEM areas (Science, Technology, Engineering and Mathematics) areas of Computer Science, Physics and Mathematics.
Aberystwyth has also seen a strong rise in the number of international students choosing to study here, up 32% in the case of European Union students. Consequently, Aberystwyth is the market leader in Wales for students from Poland, Bulgaria, Norway and Malaysia.
Professor Noel Lloyd, Vice Chancellor of Aberystwyth University said "The exceptional demand for places is testimony to the high quality of academic facilities and the learning environment at Aberystwyth. I am particularly pleased that this is across the whole range of our provision."
"The 2009 National Student Survey placed Aberystwyth joint 6th of all universities in the UK, a fact that underlines the excellent student experience offered here. That Aberystwyth, for the 5th year in succession, is the top campus university in Wales is a source of great pride for everyone associated with the University. As for the new academic year we are very pleased that so many gifted people will be studying with us this year."