Fuzzy systems award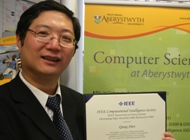 Professor Qiang Shen
Fuzzy systems award
Professor Qiang Shen, of the Department of Computer Science has been awarded the Computational Intelligence Society Outstanding Paper Award in the IEEE Transactions on Fuzzy Systems by the Institute of Electrical and Electronics Engineers (IEEE).
The award, the most prestigious international publication award in the field of Computational Intelligence, was presented to Professor Shen at the International Conference on Fuzzy Systems which was held on the South Korean island of Jeju at the end of August. Nominations for the award were made anonymously by leading researchers in the field.
The paper Fuzzy interpolative reasoning via scale and move transformations was published in the Transactions on Fuzzy Systems, 14(2):340-359, in April 2006, and was co-authored with Zhiheng Huang, a former PhD student of Professor Shen at the University of Edinburgh.
Professor Shen's work focuses on developing knowledge-based computer systems that imitate human judgement, enabling them to deal with information that is described in vague terms, such as whether a person is tall or short, thin or portly.
These systems have a broad range of applications, from assisting law enforcement agencies to tackle organised crime such as drug smuggling and human trafficking, to plant operation monitoring and supermarket consumer profiling.
In the paper Professor Shen and Zhiheng Huang present a ground-breaking theory for fuzzy interpolative reasoning. The work helps to reduce the complexity of fuzzy models and makes it possible to perform inference in sparse fuzzy knowledge-based systems. The term 'fuzzy' reflects the vague, or imprecise nature of the information.
A special session dedicated to discussing current research relating to the theory proposed by Professor Shen will take place at the 2010 World Congress on Computational Intelligence in Barcelona.