Aberystwyth University to appoint new Vice-Chancellor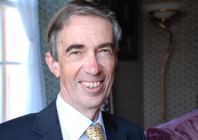 Professor Noel Lloyd
Professor Noel Lloyd CBE, Vice-Chancellor of Aberystwyth University, has announced his intention to retire when his term of office comes to an end at the close of the 2010/11 academic year.
Professor Lloyd, who has held the post since September 2004, made the announcement at a meeting of the University's Council today, Thursday 1 July 2010.
Sir Emyr Jones Parry, President of Aberystwyth University, said:
"Noel has given long and distinguished service to Aberystwyth University. The Council has paid tribute to his service, first as Registrar and Secretary, and then Vice-Chancellor."
"His long planned retirement will leave Aberystwyth University well placed to face future challenges. Under his stewardship the University achieved its autonomous status and has developed substantially. I have much enjoyed working with Noel, and look forward to continuing to do so for the academic year ahead, at the end of which I shall wish him a happy retirement, as no doubt, he will return to his love, mathematics."
Following the announcement the University's Council moved to begin the process to appoint Professor Lloyd's successor, which is expected to be completed in time for the 2011/12 academic year.
In June Professor Lloyd was awarded the CBE for Services to Higher Education in Wales. Prior to holding the posts of Vice-Chancellor and Registrar and Secretary, he was previously Pro Vice-Chancellor, Dean of Science and Head of the Department of Mathematics at Aberystwyth University.
He graduated in Mathematics from the University of Cambridge, completed his PhD there and was Research Fellow at St John's College. His research interests are in Nonlinear Analysis and Dynamical Systems.
He has served on various Research Council committees and editorial boards, and was editor of the Journal of the London Mathematical Society from 1983 to 1988. He has been a member of the HEFCW Quality Assurance Committee, and was a member of the board of the mid-Wales TEC and then of the mid-Wales ELWa Regional Committee.
At present he is Chair of HEW (Higher Education Wales), and a Vice-President of Universities UK. He is a member of the board of the Universities and Colleges Employers Association (UCEA), chairing its Health and Safety Committee and the board of the Quality Assurance Agency (QAA), chairing the Access Recognition and Licensing Committee.
Professor Lloyd was Secretary of Capel y Morfa, Aberystwyth from 1989 to 2004 and has served as chair of the Church and Society Board of the Presbyterian Church of Wales. He is a Fellow of Trinity College of Music, London.
au11410