New Head of Law and Criminology
28 July 2010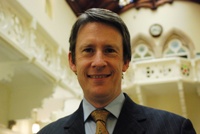 Professor Noel Cox
Professor Noel Cox has been appointed as the new Head of the Law and Criminology Department at Aberystwyth University.
Professor Cox joins the University from Auckland University of Technology (AUT) where he was a Professor of Law and Head of the Department of Law.
Born and brought up in Auckland, New Zealand, Professor Cox holds numerous degrees, including Master of Laws and Bachelor of Laws from the University of Auckland; Doctor of Philosophy in Political Studies and a Master of Theology. He also has a Master of Arts in ecclesiastical law, from the Archbishop of Canterbury's Examination in Theology, and a Licence in Theology from the University of Wales Lampeter.
His main field of research interest is constitutional law and also has an interest in Church-State law and cyberspace law. Furthermore, Professor Cox is the author of over 100 academic papers and four books. In 1994, Professor Cox received the Fowlds Memorial Prize as the most distinguished student in the Faculty of Law at the University of Auckland. He later received the Vice-Chancellor's Excellence Award for Research at the AUT and in 2004 he was elected a Fellow of The Royal Historical Society (FRHistS) for his work on Commonwealth jurisprudence.
In addition to his academic work, Professor Cox was admitted and enrolled as a Barrister and Solicitor of the High Court of New Zealand in 1988. He has worked on a number of high profile legal cases in New Zealand and Australia and was lead consultant for a World Bank funded project investigating legal professional standards and ethics in Kenya.
Speaking of his appointment Professor Cox said: "I am delighted to be moving to Aberystwyth. I first visited the town some eight years ago during a Law conference held at the Department. I am excited by the prospect of building on the achievements of the long established Law and Criminology Department and look forward to energising and developing what is already a well regarded Law Department, and the oldest in Wales. I particularly look forward to enhancing the range of degree schemes available at a postgraduate level whilst also developing our research portfolio."
The appointment has been welcomed by Professor Noel Lloyd, Vice Chancellor of Aberystwyth University. Professor Lloyd commented: "The Department of Law and Criminology is well established and is an important part of the university's academic profile. Its graduates continue to make an important contribution to the legal profession and I am pleased to see the development of work in Criminology. I am delighted that we have been able to appoint Professor Cox to the post of Head of Department and welcome him warmly to Aberystwyth University. His commitment to the role, and to the University, is demonstrated by his move to Wales from New Zealand. I wish him every success."
Professor Cox took up the post this month and will be joined by his wife, Katy, later this year.

Back to the top
Contact for this page:
Communications and Public Affairs, Aberystwyth University, Cledwyn Building, Penglais, Aberystwyth, Ceredigion, SY23 3DD
Tel: 01970 622946 Email:
communications@aber.ac.uk