Calling all Aber-preneurs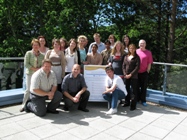 Tony Orme, Aberystwyth University's Enterprise Manager, (kneeling, centre) with staff and students who attended the 2010 Business Start-up Week.
Aberystwyth University's Summer Business Start-up Week will be held on campus from Monday 6th –Friday 10th June 2011. 

This 'Business Boot Camp' provides an excellent opportunity for staff, students and graduates to take part in FREE essential business skills workshops.
Whether you have a business idea you are looking to turn into reality, or are interested in developing your entrepreneurial skills, why not join us for one or more workshops? Sessions will cover themes including: Business Planning, Market Research, Financial Planning and E-Marketing.
"In addition to a package of essential business skills training, the Business Start-up week provides individuals with a fantastic networking opportunity to meet like minded entrepreneurs and build a support network to draw on when taking their business idea forward." Tony Orme, Enterprise Manager, Commercialisation and Consultancy Services.
AU11311