Antiques Roadshow visits Aberystwyth University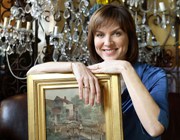 Presenter Fiona Bruce
BBC ONE's ever popular Sunday evening programme, Antiques Roadshow, will be filming for its 34th series at Aberystwyth Arts Centre on Thursday, 9th June, 2011. The doors open at 9.30 am and close at 4.30pm. Entry to the show is free.
Some of Britain's leading antiques and fine arts specialists will be on hand to offer free advice and valuations to visitors, who are invited to raid their attics and bring along their family heirlooms, household treasures and car boot bargains for inspection by the experts.
Presenter Fiona Bruce will also be present and filming background stories about Aberystwyth.
People with large pieces of furniture or other big items can send details and photographs of their objects to: Antiques Roadshow, BBC, Whiteladies Road, Bristol BS8 2LR or e-mail them to: antiques.roadshow@bbc.co.uk. 
Series Editor Simon Shaw says: "The team are all looking forward to visiting Aberystwyth. It's always exciting to see what will come to light on the day. We regularly see between 1500 and 2000 visitors on the day but despite the high turnout everyone will get to see an expert."
AU12211