Mobile Apps Challenge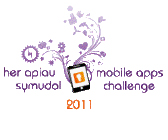 Mobile Apps Challenge 2011
Aberystwyth University 'Mobile Apps Challenge 2011'
Have you had an innovative idea for a mobile application for smart phones or the iPad (an 'app')? Are you working on software already or do you have an idea for an app that you would like to explore?
The Technology Transfer team in Commercialisation and Consultancy Services (CCS) has launched the 'Mobile Apps Challenge 2011' for staff and students at Aberystwyth University.
The 'Apps Challenge' has two competition categories to enter, with prizes for the most inventive and commercially promising app/app idea.
To enter this competition simply complete an application form and submit it to CCS by 15th July 2011.
Award Categories:
Concept for a new app
Do you have an idea or concept for a brand new app? Have you been thinking of this for a while but haven't acted on your instincts? Perhaps you are not a software developer but you have a promising idea that you would like to see developed. If so then this is the category for you. Tell us about your concept and who might download your app!
Prize: an ipad2* plus support to develop and launch your app
Innovative software for development into an app
Have you already written software that could be developed into an app or a novel algorithm? Have you written code in a language that can be ported for either the Apple or Android platforms? If you have existing software that could be further developed into an app then this is the category for you. Tell us your idea and the appeal that your app would have for the market today!
Prize: £2000* plus support to complete the remaining development and launch of your app
Commenting on the competition, Dr Rhian Hayward, Technology Transfer Officer said:
"The market for smart phone applications represents a rapidly emerging and powerful commercial opportunity for software based innovation and associated intellectual property. We look forward to reviewing interesting ideas and innovations from across the University and working with the competition winners to develop and launch the selected apps."
Individuals interested in entering the 'mobile apps challenge', are encouraged to register for the workshop being held on 8th June to pick up tips on 'what makes an app successful'.
Entry forms plus full Terms & Conditions can be viewed at www.aber.ac.uk/challenge
Further Information:
CCS are continually scouting for new ideas and inventions within the University. Staff and Students interested in discovering more about the support and funding opportunities available through CCS, are advised to contact Dr Rhian Hayward (ccservices@aber.ac.uk  / 01970 628753).
*See competition details including full terms and conditions at: www.aber.ac.uk/challenge
AU13411