Lay of the land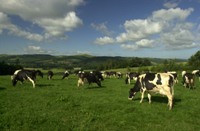 Lay of the land
Welsh farmers in 2011 face just as many pressures as their fore fathers did pre - World War II. This is the conclusion of a new book - 'Farming in Wales 1936–2011' launched to celebrate the Farm Business Survey's 75th anniversary.
Farmers in the 1930s faced hard times but were self-contained and self-sufficient, whilst today pressures imposed by the demands of environmental management, public indifference and how domestic food production and local sourcing has come full circle following decades of reliance on imports, are among the challenges facing the industry.
The Farm Business Survey has been conducted by Aberystwyth University since 1936 and is widely recognised as the most authoritative survey of the financial position and performance of farm incomes. The Farm Business Survey team is now part of IBERS - the Institute of Biological Environmental and Rural Sciences.
Written by former Aberystwyth University Professor and renowned local historian Richard Moore- Colyer, 'Farming in Wales 1936–2011' gives a fascinating insight into how farming and rural communities have changed during that time, through the eyes of some of the original Survey participants.
Tony O'Regan, Director of the Farm Business Survey said "In its early days, the Survey had to overcome farmer fears and trepidations, not to mention loose dogs, bulls and rough tracks, to questions posed by University researchers. The book admirably portrays the difficulties farmers faced over the intervening years including poor housing and amenities, poor trading conditions and overbearing officialdom. Today little has changed as the book demonstrates by inviting the reader to share the memories and views of farming families who were visited as part of the very first Survey in 1936. These farmers include":
Dylan Parry is the third generation farmer to own Tŷ Ucha'r Llyn at Gwyddelwern near Corwen. Despite farming over 250 acres the farm still needs to rely on off farm income to provide a reasonable standard of living for the family. They have two sons and wrestle with the question of how the next generation can continue the tradition. Wind farming is a possible solution to this dilemma.
John Price of Aberbechan near Newtown, featuring a typical timber framed farm house, has adapted and diversified over the years from pig farmer to lamb and store cattle production, presently against a background of involvement in Tir Gofal. In the years ahead, John proposes to concentrate his efforts on the woodland side of the business, while his son, a Physics graduate working in local industry may have to l manage the farm on a 'dog and stick' basis.
Mrs. Anne Sherman of Llainmanal, Rhydlewis recollects school holidays spent on the farm in the 1930s, to which she returned from Yorkshire in the 1970's. It is no longer a working farm but the house retains its personality and holds many happy memories.
Mr. Hubert Phillips a 74 year old who continues to farm at Llanboidy in Carmarthenshire recollects a close knit rural community, where chapel and church were vital focal points, and close inter-farm cooperation was the norm.
Dai Jones, Llanilar the popular farmer and broadcaster said
"Wales has a history punctuated by great people and traditions and for generations farmers have contributed to that history and it is imperative these contributions are recorded. This book will appeal to all and I hope that every farm, indeed every home in Wales will in time have a copy of 'Farming in Wales 1936–2011' to reflect upon."

'Farming in Wales 1936–2011' will be launched by the popular farmer and broadcaster Dai Jones, Llanilar at the National Library in Aberystwyth on Thursday July 14th at 7.00 p.m.
A second event to publicise the book will be held during Royal Welsh Show in Llanelwedd on Tuesday 19
th
July at 2.00 p.m.in the Aberystwyth University Education Pavilion, adjacent to S4C above the Main Ring.
AU16711