Professor Gareth Edwards-Jones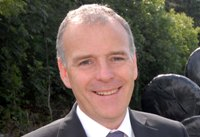 Professor Gareth Edwards-Jones
It is with great sadness that we note the death of Professor Gareth Edwards-Jones, the Waitrose Chair of Sustainable Agriculture at IBERS, who passed away on Sunday 14 August.

Professor Edwards-Jones took up the post in September 2010 as part of an innovative joint arrangement with Bangor University in which Professor Edwards-Jones combined his work as Waitrose Chair of Sustainable Agriculture with his position as Professor of Agriculture and Land-Use Studies in Bangor.

He was a farmer's son from Denbighshire with research interests spanning a range of issues concerned with food production and wise use of the environment. These included carbon accounting, agricultural policy and the environment, the economics of nature conservation, the psychology of farming decision-making and agricultural development in Wales.

Professor Edwards-Jones is survived by his wife, Emma, and two children who live in North Wales.
Speaking following the announcement of Professor Edwards-Jones' death, Professor Wayne Powell, Director of IBERS said: "Professor Gareth Edwards-Jones was the most outstanding agricultural scientist of his generation. Combining intellectual leadership with inspirational teaching and the ability to communicate and connect to farmers and the broader rural communities. His appointment to the Waitrose Chair in Sustainable Agriculture in 2010 reflected these qualities and his ability to set the agenda for land based sciences in the UK and internationally. He will be missed by his colleagues and friends at the University and we send our deepest sympathies to his family."
The public funeral service will take place at 1.30pm on Saturday 20th August at St Padarn Church, Llanberis and followed by the interment at Llanrug Community Cemetery. The family has requested that individuals wishing to attend the funeral dress in colourful clothing and for donations to be made to Marie Curie rather than flowers. Any further enquiries should be addressed to Dylan Griffith, Funeral Director, Tros y Waen, Penisarwaen (01286) 871833.
AU20011