Not the Booker Prize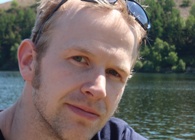 Tyler Keevil
An Aberystwyth PhD student whose debut novel has already met with considerable acclaim is celebrating further success after being placed on the shortlist of a literary award organised by The Guardian.
'Fireball', by Tyler Keevil, who is currently studying for a PhD in Creative Writing at Aberystwyth, has been voted by readers and reviewers onto a shortlist of six novels for 'Not the Booker Prize', described as the UK's 'most rambunctious literary prize'. The award is open to novels which were eligible for the Booker Prize but were not shortlisted for it, and is voted for by visitors to the Guardian website.
Although he now lives in mid Wales, Tyler Keevil is originally from Vancouver, Canada, where the novel is set. It tells the story of four teenage characters during a hot summer and the events that lead up to the death of Chris, the complex and misunderstood best friend of the protagonist, who drives a stolen police car over a cliff to his death.
Voters for the award are asked to supply a concise review of the book that secures their vote, and 'Fireball' has been described as "a quick little number with a strong first-person narrative and tons of action".
Speaking of the book, Tyler said: "Somebody once said that if you're going to write a book, write the kind of book you'd like to read. That definitely applies to Fireball. I'm really grateful that people have taken to the book in the way they have, particularly in Wales. A lot of readers have told me it reminds them of their own childhood, regardless of where they're from, which is great to hear. Many of them have also asked about what comes next for me. I'm working on a second novel as part of my PhD at Aberystwyth, which I'm hoping will live up to the anticipation."
Earlier this year, 'Fireball' was also longlisted for the prestigious Welsh Book of the Year award, and scooped the Media Wales Readers' Prize element of that competition.
The shortlisted books for the Not the Booker Prize will be further reviewed and discussed on the Guardian Books blog, before the winner is announced in October. Although not as valuable in monetary terms as its namesake, the Booker, the winner does receive a prize – a Guardian mug.

AU20411