Statement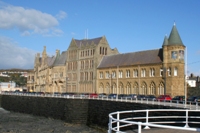 The Old College
Aberystwyth University has announced today that investigations are underway into a number of commercial and/or operational activities that have been brought to light as a result of an internal University estates review initiated by the new Vice Chancellor.
Members of the University staff are currently cooperating with the investigations and it is likely that whilst the investigations are on-going, much of their time will be taken up with this activity.
As these investigations are currently on-going, there is little further we can add at this juncture.