Dr Andrew Breen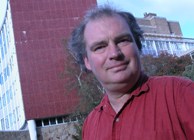 It is with great sadness that we report the death of Dr Andrew Breen, a Senior Lecturer at the Institute of Mathematics and Physics.
A native of Sunderland, Dr Breen graduated from Aberystwyth before going on to obtain his PhD here in Ionospheric Physics.
During his career he also worked at Southampton University and the Max-Planck Institut für Aeronomie at Katlenburg-Lindau in Lower Saxony.
Dr Breen held a PPARC Advanced Research Fellowship from 1998 until 2001 when he was appointed to the post of lecturer.
He led the Solar System Physics Research Group from 2005 until handing over to Professor Manuel Grande, and was promoted to Senior Lecturer in 2006. He was a fellow of the Royal Astronomical Society.
Regarded as one of the leading researchers into the evolution of the solar wind, Dr Breen was actively involved in many international collaborations with solar and solar wind scientists throughout the world - including groups at NASA Goddard Space Flight Centre and the Solar Terrestrial Environment Laboratory of Nagoya University in Japan.
He was a co-investigator on the CELIAS instrument package on the NASA STEREO mission and on the Solar and Heliospheric Science Key Science Project for the LOFAR radio telescope.
During 2007 and 2008 he was one of the leading organisers for the International Heliophysical Year.
Dr Breen, who was 47 and had suffered from poor health for some time, passed away on Friday 9 December.