Penglais Farm New Student Residence Project Update
09 January 2012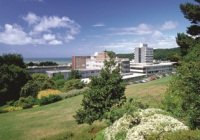 Aberystwyth University is advancing with the process of procuring new halls of residence which is expected to provide accommodation for 1000 students in modern self-catering accommodation.
The University has been engaged in a competitive dialogue tender process since March 2011 when a contract notice was posted on the Official Journal of the European Union inviting expressions of interest from potential developers.
The University received three excellent submissions at the end of Phase 2 of Competitive Dialogue.
Following the evaluation by the Project Team, Balfour Beatty and The Miller Consortium have been selected to participate in Phase 3 which will commence mid January 2012. The unsuccessful participant was Sir Robert McAlpine. The Project Team reported that all the submissions were of a very high standard. The University thanks Sir Robert McAlpine for their interest in the Project and would very much welcome submissions from them in the future.
To further support the development of the new student residences project, the University has recently appointed Pick Everard as Technical Adviser to the project team. Pick Everard, which has offices in Cardiff, will now be providing technical advice in relation to the build quality and advising on the merits, suitability and costs of different construction methods proposed.
James Wallace, Residential Development Director at Aberystwyth University commented: "We are pleased with the progress made with the competitive dialogue process, and the quality of submissions, as the University remains on schedule to provide the very best possible residential student experience for the future. It is anticipated that the Phase 3 of the competitive dialogue will be complete by late spring with selection of a preferred bidder, and with financial close expected by the end of the summer 2012, so that the University's handover target date of 2014 is achieved."
AU0112
Back to the top
Contacts
Alwena Hughes Moakes
Communications and Public Affairs
Aberystwyth University
01970 621933
07896 653 733
crm@aber.ac.uk