Foreign and Commonwealth Office visit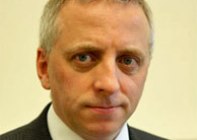 Iain Macleod.
Iain Macleod, Legal Adviser, Foreign and Commonwealth Office, will be visiting the Department of Law and Criminology on Wednesday 8th February.
He will be in dialogue with Sir Emyr Jones Parry, President of the University (a former Permanent Representative to the UN and former Permanent Representative to NATO), from 3.45 pm at the International Politics Main Hall.
Questions to be discussed include negotiations among the euro zone countries and impact on the EU Treaties, the law relating to intervention and the Libyan president, and the legality of the invasion of Iraq.
Iain Macleod was admitted as a solicitor in 1987 and since then has held positions in a number of Government departments.
At the Foreign and Commonwealth Office, he worked at the UK Representation to the EC and at the UK Mission to the UN (he was legal counsellor to the UK's mission to the United Nations in New York between 2001 and 2004).
Subsequently, he was Deputy Legal Adviser at the Home Office and then Legal Adviser, Central Advisory Division, Treasury Solicitor's Department, before taking up his present post last year.
All are welcome to attend the dialogue, and audience participation is encouraged.
AU2612