Centre for European Studies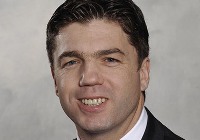 Mr Stephen Crabb MP.
Mr Stephen Crabb, Conservative MP for Pembrokeshire and Assistant Government Whip, will be discussing the impact of EU aid on domestic politics and policies during the challenging circumstances of the Eurozone crisis, at the Centre for European Studies in Aberystwyth University on Friday 2 March 2012.
The lecture, entitled 'The case of EU aid in an age of austerity' takes place at 2p.m. in the Main Hall of the International Politics Building on the University's Penglais campus.
Stephen Crabb was re-elected as MP for Pembrokeshire in May 2010. Before he worked as a marketing consultant, and for the National Council for Voluntary Youth Services and London Chamber of Commerce and Industry.
In Parliament he has served on the Welsh Affairs, International Development and Treasury Select Committees. In January 2009 he was appointed to the frontbench as Opposition Whip.
Following the formation of the Coalition Government in May 2010 he was appointed as an Assistant Government Whip.
The Centre for European Studies is a cross-departmental and multi-disciplinary research-led learning centre focusing on the study of further European integration and Europe's relations with the outside world.
Its mission is to develop excellence, through innovative teaching, research and continuing professional development in the areas of International Politics, Geography and Earth Sciences, Environmental Sciences, European Languages, Law and Criminology, History, Management and Business and any other discipline with a European focus.
The work of the CES is aligned to the European Union's Lifelong Learning Programme including Jean Monnet Programme and the Erasmus Programme.
For more information, visit http://www.aber.ac.uk/en/ces/new-events/ or contact Ms Ira Bliatka, CES Administrative Assistant (irb2@aber.ac.uk) directly.
AU4212