Why Wales Said Yes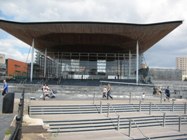 A ground-breaking analysis of the 2011 Welsh referendum will be launched on Monday 5 March in Aberystwyth.
Wales Says Yes: Devolution and the 2011 Welsh Referendum has been written by Professor Roger Scully, Director of the Institute of Welsh Politics at Aberystwyth University, and Professor Richard Wyn Jones, now of Cardiff University but formerly also of Aberystwyth University.
The book examines why the referendum occurred, examines the referendum campaign in detail, and analyses why people voted the way they did – delivering, ultimately, a clear Yes victory. The book has already been described by Professor Charlie Jeffery, Chair of the Political Studies Association of the UK, as "outstanding political science".
Speaking ahead of the launch, Professor Roger Scully, Director of the Institute of Welsh Politics, said "We are delighted to launch Wales Says Yes in Aberystwyth, which has been home to the serious study of Welsh politics for more than a decade. Launching the book here seems particularly fitting, given that Ceredigion witnessed one of the most well organised local campaigns in the referendum, and Aberystwyth played host to the first of the televised referendum debates".
The launch will be held at the Morlan Centre on Monday 5th March, starting at 7pm. Refreshments will be provided, and there will be an opportunity to buy the book and have it signed by both authors.
The Institute of Welsh Politics
The Institute of Welsh Politics is an independent and non-partisan research centre within the Department of International Politics at Aberystwyth University. It was established to promote the academic study and analysis of all aspects of Welsh politics. Reflecting its institutional home within the oldest Department of International Relations in the world, the work of the Institute focuses not only on the political process within Wales, but also on Wales' political and political-economic relations within Britain, Europe and the wider world.
AU4112