A Glass Act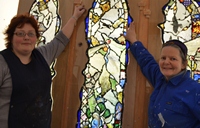 Rachel Phillips and Linda Norris.
Three new stained-glass windows will be installed in the Chapel at Conwy Castle this week (Thursday 9 March), which is the work of Aberystwyth graduate Linda Norris and Rachel Phillips of Swansea Metropolitan University.
Commissioned by CADW, the windows are inspired by the landscape of North Wales, historical events and the contemporary life of the castle today.
Welsh poet, Professor Damian Walford Davies from Aberystwyth University, has also written three couplets in Welsh, French and English, which have been incorporated into the designs (below).
Professor Walford Davies adds, "I was delighted to be invited to write these poems; they aim to reflect the castle's cross-cultural heritage. Both Linda and Rachel have successfully managed to tell a fascinating story, educate and inspire people through their design."
Linda Norris explains, "We have used the medieval techniques of stained glass to create a contemporary artwork inspired by surviving fragment panels containing medieval glass. It has been an amazing opportunity to collaborate on this project which we hope will help enhance the visitor experience of the castle."
The couplets for the windows run:
At the altar they heard estuary birds
cry over the kiss of salt and river water.
Wrth odre Tŵr y Capel, gardd
y frenhines: gariswn o flodau.
[At the foot of the Chapel Tower, the queen's garden: a garrison of flowers.]
Que l'œil transperce le miroir du passé –
l'ombre de l'histoire, fantôme du vitrail.
[Let the eye pierce the mirror of the past – history's shadow, phantom in the glass.]
AU5212