Rag support for Tŷ Hafan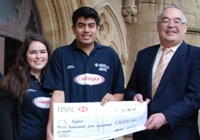 L to R: Aber Rag Vice-President, Rhian McIntosh and President, Ismael Khan presenting the cheque to Mr Philip Thomas of Tŷ Hafan.
The fundraising initiative of students at Aberystwyth University has come to the fore once again this week as representatives from Aber Rag presented a cheque for £3,500 to the charity Tŷ Hafan.
Aber Rag President, Ismael Khan and committee members Huldah Knox-Thomas, Verity Bailey and Rhian McIntosh were joined by the Vice-Chancellor of Aberystwyth University, Professor April McMahon, Professor John Grattan and Ms Rebecca Davies, Pro Vice-Chancellors and Cathy Beckham, Societies and Volunteering Administrator at the Aberystwyth Guild of Students, as they presented a cheque to Mr Philip Thomas, Community and Business Fundraiser with Tŷ Hafan.
Established in 1999, Tŷ Hafan provides care for children and young people with life limiting conditions, and support for their families. It looks after more than 100 families in West Wales alone, some of whom are bereaved.
Alongside Childreach International, UNICEF and Oxfam, Tŷ Hafan is one of four major charities and numerous smaller local charities that have benefited from the students' fund raising activities which last year (2010/11) netted over £40,000.
Speaking after the presentation, Ismael said:
"It's been a pleasure fund raising for such a good cause, a charity that is so close to the hearts of people who live in and around Aberystwyth as well as the students. Of all the charities that we collected for last year, Tŷ Hafan prompted the warmest response.
"We are really happy that students got behind our campaign and made it such a success. A massive thankyou to everyone and particularly to Cathy Beckham at the Guild of Students. For 2011/12 we have set a target of £80,000 and we are very confident that we will reach it by the end of June, thanks to the support of everyone involved."
Philip Thomas of Tŷ Hafan said: "I'm very grateful to Aber Rag and the student community at Aberystwyth University for their generosity. Tŷ Hafan relies on contributions made by members of the community and it is particularly pleasing to see young people working to assist other young people and their families, who are much less fortunate than themselves."
Professor April McMahon, Vice-Chancellor of Aberystwyth University said:
"On behalf of the University I would like extend our warmest congratulations and sincere thanks to the Aber Rag committee on a wonderfully successful fundraising campaign. Aber Rag has a long and distinguished record of fund raising for charities, both large and small, and I am very pleased that this tradition is being kept alive thanks to the tireless work of committee members and the generosity of their fellow students and the wider community."
Aber Rag is the official fundraising arm of the Aberystwyth Guild of Students. Amongst the events organised to raise funds for Tŷ Hafan was a Winter Snow Ball featuring a snow machine, and a speed dating event.
The Aber Rag committee members are: President, Ismael Khan; Vice President, Rhian McIntosh; Treasurer, Verity Bailey; Secretary, Beth Archer; Social Secretary, Hannah Dalton; Liaison, Huldah Knox-Thomas.
AU5712