Carrying the Olympic torch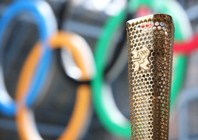 A second year student at the Institute of Geography and Earth Sciences (IGES), a first year student in the Department of Television, Theatre and Film Studies (TFTS) and the Head of the Department of Computer Science are among those named as Olympic torch bearers.
Susanna Ditton of IGES, who comes originally from Woking in Surrey, has her nomination story featured on the London 2012 web site,
http://www.london2012.com/games/olympic-torch-relay/torchbearers/detail/DB6F-03A1-8749-3C4C.
Susanna, who will bear the Olympic torch through the streets of Aberystwyth on Sunday May 27, said of being chosen, "I was told about my nomination about two months ago, but now I can share the news with everyone. I'm so excited and I'll be doing this for Aberystwyth University and the town of Aberystwyth"
Bearing the torch through the village of Brynhoffnant near Cardigan will be Shon Rowcliffe, a student in TFTS. Shon, says that he will be "carrying the torch for my Country, family and friends."
Qiang Shen, Head of the Department of Computer Science at the University has also been nominated to carry the torch in Aberystwyth on May 27th.
Speaking of today's news he said "2012 will mark the 100th anniversary of the birth on Alan Turing, the founder of computer science and artificial intelligence and a figurehead for the code breaking efforts of WWII. I'm so very much honoured to have been selected to carry the Olympic torch in memory of Alan Turing. I'm also very pleased to have this opportunity to celebrate the achievements of my Department and University and to inspire more young people to become tomorrow's leaders in science and engineering."
The Olympic torch will be carried across the UK by 8000 people and will arrive in Aberystwyth from Swansea on May 27th; leaving again on the journey to Bangor the following morning.
AU8112