Publishing awards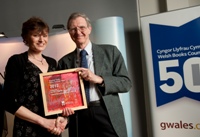 Professor M. Wynn Thomas, chairman of the Welsh Books Council, presents the award to Lynwen Rees Jones, director CES
The University's Centre for Education Studies (Canolfan Astudiaethau Addysg) was one of the winners at the Publishing Trade Awards ceremony held in Aberystwyth on the 15th of March.
Patagonia, by Sioned V. Hughes, and published by the Centre for Education Studies, won the prize for the bestselling Welsh language book for children.
The work of publishers is celebrated at the ceremony both in terms of book sales and the standard of design and production. The publishing trade awards are presented every two years, and this year the ceremony coincided with the Welsh Books Council's 50th anniversary celebrations.

"Our aim in presenting these awards is to honour the sterling work of the publishers in preparing a wide range of books for readers," said Professor M. Wynn Thomas, Chair of the Books Council.
"The Council is very conscious of the efforts made by publishers to uphold the highest standards in producing attractive materials for children and adults. It gives us great pleasure, therefore, to celebrate their success on this special occasion."

The specially commissioned trophies were this year designed by Carwyn Evans, the Cardiff-based artist, winner of the Fine Arts Prize at the National Eisteddfod in 2009.

"The publishers should all be warmly congratulated on their work," added Elwyn Jones, Chief Executive of the Books Council. "The fact that twelve publishers have come to the fore in the various categories is ample proof of the vitality which characterises the current state of publishing in Wales, in both languages."
CAA also celebrates a special milestone this year – 30 years of publishing since it was established in 1982.
AU8512