£20m green boost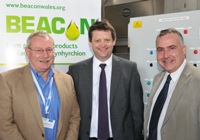 L to R Professor Wayne Powell, Director of IBERS, Alun Davies AM, Deputy Minister for European Programmes and Mark Williams MP at the opening of BEACON.
The BEACON biorefining centre at Aberystwyth University's Institute of Biological Environmental and Rural Sciences (IBERS), today (Thursday 29 March) unveiled new research facilities as part of a £20m initiative.
The research, officially opened by the Deputy Minister for European Programmes, Alun Davies, will help businesses develop new ways to turn locally grown plant crops into commercial products.
The centre is the first of its kind in Wales and houses large-scale equipment capable of taking laboratory research and scaling up to produce commercial products, services and technologies.
The new facilities are already enabling businesses to develop new ways of converting crops such as rye grass, oats and miscanthus (elephant grass) into products including platform chemicals, fuels and cosmetics.
BEACON is led by Aberystwyth University in collaboration with partners at Bangor and Swansea Universities. It is backed with £10.6 million from the European Regional Development Fund through the Welsh Government.
One of the businesses involved in the initiative is Tropical Forest Products, based in Ceredigion, which is developing a highly refined honey product for use in the cosmetics industry.
Director Professor Wayne Powell from IBERS said: "IBERS is proud to have received such significant European funding through the Welsh Government to establish the BEACON facility and to further develop its biorefining capability here in Aberystwyth. This is a vote of confidence in the potential of our research, working closely with partners in Bangor and Swansea Universities to develop alternatives to oil, and address a major global challenge."
Alun Davies adds: "I am delighted to open these new facilities which will harness the expertise within our universities and industry to drive forward the development of new technologies and products.
"This project is another example of how the Welsh Government is using the investment potential of energy to create a low carbon economy that creates jobs and a wealthy future for Wales, and further illustration of how EU funds can be invested to shape the conditions for smart, sustainable and inclusive growth."
David Wainwright, Managing Director of Tropical Forest Products said: "We are working with the BEACON initiative with the objective of increasing the efficiency of the filtration process, through a pioneering technique known as bio-refining, to develop our product. This will result in substantial reductions in energy usage, reduce waste and improve the quality of the product. "
The BEACON project involves combining various Bio-refining processes at a scale that requires specialised equipment.
A sister BEACON pilot plant run by Bangor University in Mona on Anglesey, to be officially opened later this year is working with businesses in Wales and beyond to develop biocomposite materials e.g. for the construction industry.
AU10212