Fellows honoured by University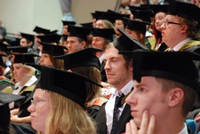 Eight Fellows, which include the broadcaster Caitlin Moran and director of the Pixar film Geri's Game, Dr Jan Jaroslav Pinkava, will be honoured by Aberystwyth University during the 2012 Graduation Ceremonies in July.
The title of Fellow is awarded to honour distinguished people who have a close association with Aberystwyth University or who have made an outstanding contribution to professional or public life in Wales.
The 2012 Aberystwyth University Honorary Fellows are (in alphabetical order):
Professor Michael Clarke

Professor Michael Clarke is a former graduate of the International Politics department at Aberystwyth University. He is currently the Director of the Royal United Services Institute. Until July 2007 he was the Deputy Vice-Principal and Director of Research Development at King's College London, where he remains a Visiting Professor of Defence Studies. From 1990 to 2001, he was founding Director of the Centre for Defence Studies, from 2001-2005, founding Director of the International Policy Institute and between 2004-05, Head of the School of Social Science and Public Policy at King's. He was appointed as Professor of Defence Studies in 1995.
Alex Jones

Alex Jones is a former Theatre, Film and Television Studies student at Aberystwyth University. Originally from Ammanford, she began her career as a television researcher before becoming a presenter on S4C children's programmes; programmes included Hip neu Sgip?, Salon and Channel 4's RI:SE. Alex Jones also presented S4C travel show Tocyn on S4C with Aled Samuel, the extreme sports show Chwa and was part of the crew on Jonathan Davies' Welsh-language rugby show Jonathan for the 2010 Six Nations Championship. She is a presenter on The One Show and has competed in Strictly Come Dancing.
Sir David Lloyd Jones

Sir David is one of the Presiding Judges of Wales and had a distinguished career at Cambridge University before being appointed to the High Court. He has made an immense contribution to the development of Legal Wales and the advancement of Welsh within the legal system. He was born and raised in Pontypridd. In October 2005, he was appointed a High Court Judge of the Queen's Bench Division. He is the Chairman of the Lord Chancellor's Standing Committee on the Welsh Language and Deputy Chairman of the Parliamentary Boundary Commission of Wales.
Rev. John Gwilym Jones
John Gwilym Jones was brought up near Newcastle Emlyn in a family that has become prominent in the life of the Eisteddfod. He has served as Archdruid of Wales and Recorder of the Gorsedd. He graduated from Aberystwyth in the late 1950s with a First in Welsh. In addition to being a Congregational minister, he has lectured in Welsh and Theolgy at Bangor. He was one of the leaders in attempts to unite the Nonconformist denominations during 80s and90s, and figures prominently in Christianity 21 - a movement of Welsh Liberal Christians.

Caitlin Moran

Caitlin Moran is a broadcaster and a TV critic. She is also a columnist at The Times where she writes three columns a week: one for the Saturday Magazine, a TV review column and the satirical Friday column "Celebrity Watch". She was the British Press Award columnist of the year in 2010, Press Award Critic of 2011 and Interviewer of the year in 2011.
Dr Jan Jaroslav Pinkava

Dr Pinkava graduated from the Department of Computer Science, Aberystwyth University with a First Class degree and also obtained a PhD from the department in Theoretical Robotics.  He was born in Prague and moved to the UK when he was six. He is an Oscar winner for his animated film work and worked for Pixar until 2006. His short film Geri's Game, won an Oscar in 1997 for best animated short film. He also completed the animation work for A Bug's Life and the storyboarding for Monsters, Inc. and Toy Story 3.
Mark Price

Mark Price joined the John Lewis Partnership in 1982 as a graduate trainee. He held numerous posts before becoming Managing Director of Waitrose in April 2007. Prior to this, in 2005 Mark was appointed as the Partnership Development Director (responsible for Strategy amongst other things) when he became a member of the Partnership Board. In January 2011 Mark became Chairman of Business in the Community, a post he will hold for three years. He is also Chairman of the Prince's Countryside Fund and a non-executive director for Channel 4.
Michael Sheen

Michael Sheen is a Welsh stage and screen actor. He studied at RADA and has since been nominated for three BAFTAs and one Emmy Award. He received an OBE in 2009 for services to drama and was awarded the freedom of Neath Port Talbot in 2008 for services to acting and the dramatic arts. He is also President of TREAT Trust Wales and is a Welsh ambassador of FILMCLUB. At Easter 2011, Sheen directed and starred in National Theatre Wales's The Passion, a 72-hour secular passion play staged in his hometown of Port Talbot. From October 2011 until January 2012, Sheen played the title role in Hamlet at the Young Vic Theatre in Lambeth.
This year's graduation ceremonies take place from Tuesday 10 until Friday 13 July 2012.

AU10312