Leverhulme grant awarded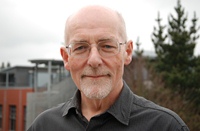 Aberystwyth University's Department of English & Creative Writing has been awarded a £232,042 Leverhulme Research Project Grant which will run for the three years.
The development of Welsh poetry in English since 1997 will be the focus for a major new research project which will pay particular attention to the work of poets who have achieved prominence and recognition since Wales's devolution vote.
Professor Peter Barry of the University was awarded this grant to lead the 'Devolved Voices' project which begins in September of this year.
Professor Barry said, "We are delighted to have this exciting opportunity to consider the energy, achievements and challenges of contemporary Welsh poetry in English. We are extremely grateful to the Leverhulme Trust for their generous support."
Professor Damian Walford Davies, Head of the Department of English & Creative Writing, welcomed Professor Barry's success and commented, "This major research grant, which the Department is delighted to have secured, reflects our intellectual commitment to Welsh Writing in English in its local, national and international contexts. The 'Devolved Voices' project will deliver a range of seminal publications and platforms that will in turn energise the literary culture it explores."
The project plans to produce a wide range of publications. One full-length scholarly volume will place contemporary Welsh poetry in English in its wider British poetic context, whilst another will provide detailed studies of major figures within the field. A book of extended interviews with key poets will provide in-depth engagement with practitioners themselves, and a final book of essays will consider the specific question of poetic production within the context of Wales's devolutionary journey.
The project will also launch a video-rich website which will provide an important record of discussions with poets themselves, of poets reading their own work, and of interviews with other notable players on the contemporary English-language poetry scene in Wales. The website is intended to serve not only as a significant archive of material for future scholars but also as an entry-point into the project's work for readers of poetry in general.
Peter Barry will be joined on the 'Devolved Voices' team by the critic and scholar of contemporary English-language poetry in Wales, Dr Matthew Jarvis, and by the poet and former editor of New Welsh Review, Kathryn Gray. A PhD student will be recruited to work on a key aspect of the project.
'Devolved Voices' boasts an illustrious Advisory Board which brings together National Poet of Wales Gillian Clarke, T. S. Eliot prize-winner Professor Philip Gross, poet, novelist and commentator Owen Sheers, noted experts on Welsh writing in English Professor Jane Aaron and Professor Tony Brown, and the current editor of Poetry Wales, Dr Zoë Skoulding.
Professor Peter Barry is an expert on modern and contemporary poetry and on literary theory. He is the author of numerous books and essays, including Beginning Theory which has sold more than 160,000 copies over three editions and has also been translated into Korean, Ukrainian and Hebrew. His most recent book, Reading Poetry, will be released by Manchester University Press in the autumn of 2012.

AU9812