Animal behaviour on the BBC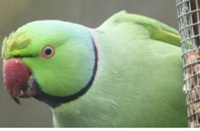 BBC Radio Wales "Science Café" dedicates this week's programme to the hot topics in animal behaviour research.
The programme was recorded at the Association for the Study of Animal Behaviour (ASAB)'s conference, held at Aberystwyth University from 11th – 13th April, where over 150 experts gathered to discuss the latest developments.
The programme includes a discussion about personality in animals, from chipmunks to sparrows and rooks. Why do some animals boldly go where other animals timidly don't go? What decides whether you are destined to be a popstar or a groupie?
"We're delighted to host this prestigious international conference here at Aberystwyth, and by the quality and diversity of research presented" agreed conference co-organisers Dr Rupert Marshall and Dr Roger Santer of AU's newly formed Aquatic, Behavioural and Evolutionary Biology research group.
"The impact of behavioural research is found in areas as diverse as conflict resolution & conservation, traffic management and sleep disorders, as well as the evolution of life on earth".
Hannah Peck, a PhD student at Imperial College, London, tells of her research investigating the growing population of ring-necked parakeets in London: are they a pest or a garden delight – and how are our native birds fairing in their presence? Hannah has recruited the public in her research – a prime example of citizen science in action.
Smaller, but no less fascinating, the wasps of Sophie Mowles' (Nottingham University) research release a perfume as attractive as pepper-spray, allowing bothered females to rebuff the courtship attempts of amorous males.
And Aberystwth University's behavioural research is also featured, with recent zoology graduate Victoria Franks, winner of the Best European Biology Student at the SET Awards in 2011, tells a fishy tale, explaining her research on social foraging in tropical fish: how do they know which fish to follow?
Whatever your interest in animal behaviour, tune in to find out more about their fascinating lives – or listen online after the programme: http://www.bbc.co.uk/wales/radiowales/sites/sciencecafe/updates/20120417.shtml
And for more information, take a look at the webpages of the members of the Aquatic, Behavioural and Evolutionary Biology research group at Aberystwyth University:
http://www.aber.ac.uk/en/ibers/research/research-groups/abeb-new/.
AU11412