Volcanic discussion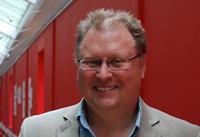 Bill McGuire, Professor of Geophysical and Climate Hazards at University College London (UCL), will talk about how climate change triggers earthquakes, tsunamis and volcanoes at Aberystwyth University this week.
Entitled 'Waking the Giant', Professor McGuire will deliver this year's Gregynog Lecture* on Thursday 19 April at 6pm at the Arts Centre's cinema, Aberystwyth.
He will explain how dramatic changes in the earth's past climate have resulted in a dynamic response from the planet's crust, driving earthquakes, tsunamis and volcanic eruptions.
He will also question whether we are on track to bequeath our children and our grandchildren not only a hotter world, but also a more geologically dangerous one as a result of human-induced climate change.
Bill McGuire is an academic, science writer and broadcaster.
He was a member of the UK Government Natural Hazard Working Group established in January 2005, in the wake of the Indian Ocean tsunami, and in 2010 a member of the Science Advisory Group in Emergencies (SAGE) addressing the Icelandic volcanic ash problem.
In 2011, he was one of the authors of the Intergovernmental Panel on Climate Change (IPCC) report on climate change and extreme events.
His books include A Guide to the End of the World: Everything you Never Wanted to Know, Surviving Armageddon: Solutions for a Threatened Planet and Seven Years to Save the Planet.
His latest book is Waking the Giant: How a Changing Climate Triggers Earthquakes, Tsunamis and Volcanoes. Bill presented the BBC Radio 4 series, Disasters in Waiting and Scientists Under Pressure and the End of the World Reports on Channel 5 and Sky News.
Light refreshments will follow the lecture along with a book signing of Professor McGuire's latest book.

* The Gregynog Lecture was established as a result of a benefaction made by Miss Gwendoline Elizabeth Davies and Miss Margaret Sidney Davies of Gregynog Hall (formerly Plas Dinam, Llandinam). The Gregynog Gift, made in July 1936, was a Trust Fund administered by the College. Its annual revenue was to be spent on "the encouragement of the study of Music, Geography and Anthropology".
The first Gregynog Lecture was delivered by Sir John Edward Lloyd on 'The History of Ceredigion' during the 1936/7 academic year.
AU11212